Posley buries Hawks & Tug
By Vinny Pezzimenti
Young Philip Martelli and grandpa Tug will be seeing Marcus Posley in their nightmares.
In one of the most important regular season games in program history, Posley delivered one of the great performances in St. Bonaventure history. The senior scored 47 points and put the Bonnies on his back in their 98-90 victory over Saint Joseph's on Wednesday at Rochester's Blue Cross Arena.
The win — SBU's second over the Hawks this season — puts another key bullet point on the team's NCAA resume. If the season ended today, the Bonnies (21-7, 13-4 Atlantic 10) would be in. They close the regular season at Saint Louis Saturday.
They can thank Posley for win No. 21. Banged up and struggling the last few weeks, Posley buried 15-19 from the field, 6-7 on 3-pointers and 11-12 free throws. The sore hip didn't look very sore.
He canned long 3-pointers, runners and drives at the rim. He made everything. With the shot clock running down late in the game, he could barely get his hands on the ball before heaving it toward the basket. That went in, too.
"He was making shots, unbelievable shots," coach Mark Schmidt said in his post-game radio show. "He was just incredible. That's why we won."
Posley's 47 are the most since the great Greg Sanders put 46 on Detroit on Dec. 12, 1977. Only two Bonnies have scored more in a game. Their names are Lanier (51 and 50) and Stith (48).
"It was just a crazy experience tonight," Posley told Gary Nease afterwards. "It's something I'll never forget."
Bonnies fans won't either.
Hot start
With 7:26 remaining in the first half and the Bonnies ahead 24-20, the Marcus Posley show began. He netted 18 points in the first 20 minutes, shot 6-7 and keyed a run that propelled SBU to a 41-28 halftime edge. To that point, it had been a back-and-forth game.
The run started when Posley returned from sitting five minutes with two fouls. Mark Schmidt rolled the dice and was rewarded handsomely.
"If I get started early," Posley said, "anything can happen."
47 happened.
Never easy
Unfortunately, the Bonnies couldn't hold the 13-point intermission edge. The Hawks started the second half 9-9 from the field, 8-8 from the foul line and took a 55-53 lead before the 6,400 in attendance could settle back into their seats.
No problem.
Posley ignited yet another run and the Bonnies built a seemingly insurmountable 16-point edge. Uncharacteristic poor free throw shooting allowed SJU to trim it to 93-88 in the final minute. The Bonnies came through, as always.
"It was a must win for us," Schmidt said. "I told the kids in the locker room that this was a special time. The way Marcus played, he'll remember it the rest of his life."
The Bonnies might not have punched their ticket to the NCAA tournament with the win, but it sure feels like they're going to.
Stats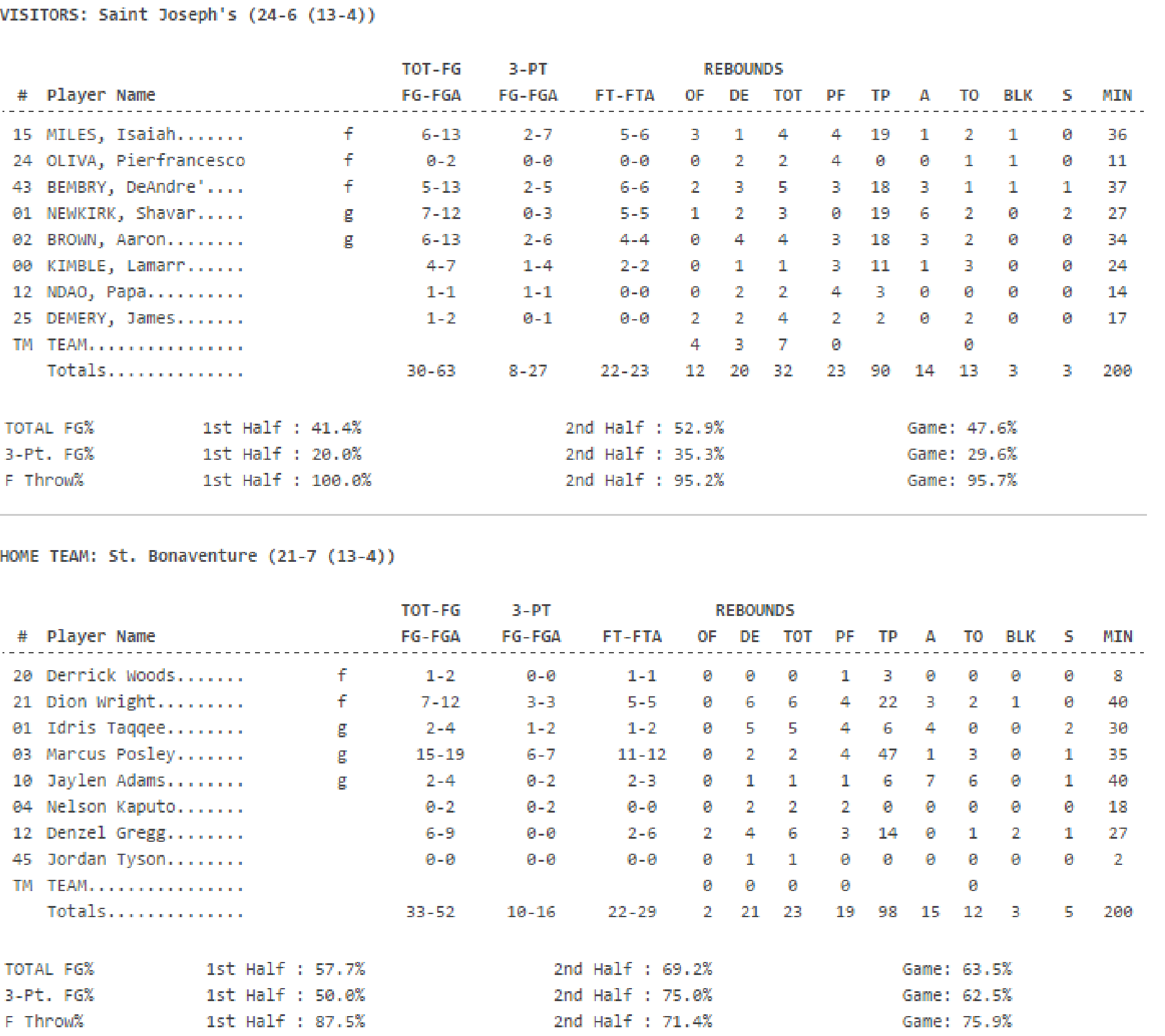 "Home" game
Much of the pre-game banter centered on the Bonnies playing such a critical "home" game in Rochester. It scared fans. It turned out to be a moot point.
For Posley, it was his second game at Blue Cross. He netted 22 and made 5-13 3-pointers in last year's 75-55 victory over George Mason in Rochester.
"I feel like I shoot better here than the Reilly Center," he said.
Of the fan support on Wednesday night, Posley added: "They're truly our faithful fans. They're with us do or die."
Other Bonnies played, too
Dion Wright (22 points) and Denzel Gregg (14) were the only other Bonnies to score in double figures.
Wright also played one of his better games of the season, shooting 7-12, 3-3 on 3-pointers and 5-5 on free throws. He added six rebounds and three assists.
The Hawks were forced to go small because of foul trouble, which allowed Gregg more minutes off the bench. He didn't disappoint, scoring 10 points on 4-4 shooting in the first half.
Big men Jordan Tyson and Derrick Woods played 10 minutes combined.
Swaggy J struggles
Jay Adams, who dropped 31 on the Hawks in SBU's victory in Philly, encountered one of the worst game of his college career.
St. Joe's was focused on the sophomore, who only got off four shots (making 2). Adams did have seven assists, but he was troubled by six turnovers.
"He's going to bounce back," Posley said. "The next game could be him."
There was a highlight for Adams. His steal and dunk boosted the Bonnies to an 11-point lead in the second half. He even raised the roof afterward.
Wasn't that move retired in the '90s?
Next up
The Bonnies got the Billikens in St. Louis on Saturday night. They can still finish as high as second in the Atlantic 10. We'll sort that stuff out later.