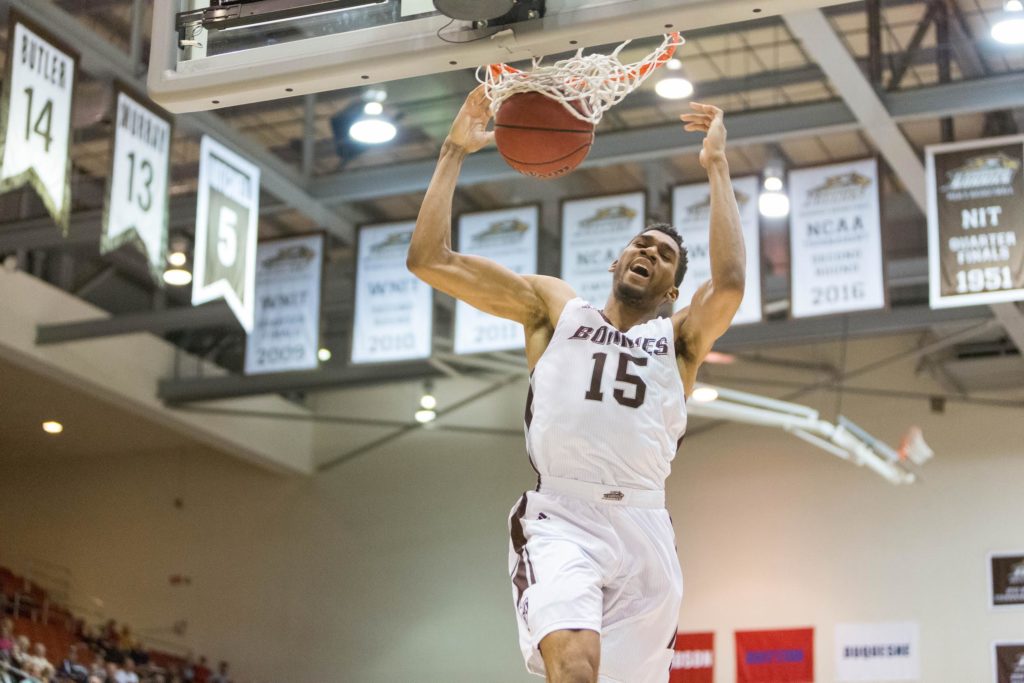 Don't Give up Yet Bonnies Fans, We're Just Getting Started
There's nothing easy about being a Bonnies fan.
Mike Vaccaro said essentially these same words in his post for us last week which you can read here. 
Granted, I am writing this as a soon-to-be 32 year old, but even I've suffered my fair share of pathetic seasons, a program rocking stretch, heart-breaking losses, and of course the omission of our club from the NCAA's Tournament back in 2016. I sat there, on the bench from 2004-2008; I know what bad teams and bad losses look like and feel like. 
And while those older alumns may have suffered through more tough losses and hard times, they've also experienced some fine seasons during the 60's and 70's. They've seen long winning streaks, the team become a national power and even make it to the Final Four; something that no sane Bona fan, young or old, could ever realistically imagine happening again. 
Friday night's season opening loss to Niagara was about as painful as it gets as far as November setbacks are concerned. No doubt. 
An alum from the class of 2009 and 1969 would both agree that Friday night's loss is right up there on both of their all-time gut-punch games. They'd be decades apart on life experiences but share the "Bonaventure fan experience" for sure and Friday only brings them closer together. 
Entering a season with "NCAA or Bust" expectations, the Bonnies went into game one against a lesser foe, albeit a rival, without their leader and best player. Still, the spread was nearly ten points, Bonas had won six straight over NU, Schmidt was 10-0 in home openers and Bonas was 48-2 in openers in the Reilly Center. There was no way Niagara was letting the air out of our balloon on opening night in the RC. 
It was a game that even the most pesismistic of fans entered with little to no fear of losing.
No Jay? No problem.
But that's not how this works. This Bonaventure fandom thing. It won't be that easy. But you already knew that. 
Friday's loss by no means "ends" the Bonnies season and their chances of an at-large are still there, though there's no doubt they took a massive hit. 
We're going to have to sit at home, watch these games over our computers in our kitchens, beer in hand, and deal with each basket, turnover, missed box out, and foul call for another 30 something games…each now more critical than the last. With expectations higher than ever before (if you're my age), the viewing pleasure more closely resembles watching an episode of Break Bad than This Is Us. You're tense, you're anxious, you're waiting for the worst to happen…you're a Bonnies fan. 
---
As we stated on Twitter there's no doubt that the Bonnies' NCAA at-large chances were severely hurt on Friday. Sure, it's one loss…but it's a big loss. The selection committee has shown how they love to punish mid-majors for losing games at home to inferior teams. Remember that back in 2016, when the Bonnies won a share of the A10 title, their worst non conference loss was to 128th ranked Siena on the road. They lost one home game, to Hofstra, who was a top 100 team.
Friday's loss is significantly worse than those two and in 2016 folks said the Siena/Hofstra losses were too much to overcome on their resume. Let that be food for thought for those saying that Friday's game was "just one loss'…they all matter, some more than others actually. 
Now, if the Bonnies go run the table in the non conference there's no issue…but that's going to be tough to do. What SBU must do now is essentially win every other game they're favored in, and win a FEW of the Maryland, Syracuse, TCU/NMU games. The good news is Bonas still has plenty of games left against quality opponents (likely five games vs. top 100 teams), but now they need to win those games. It wouldn't hurt if Niagara went out and won 26 games and the MAAC either. 
Here's five observations from the Bonnies loss to Niagara…
The Bonnies Missed Adams- Listen, this is no surprise to anyone but SBU looked lost offensively for the entire first half and without their point guard, and struggled to find rhythm. Bonas shot 39% from the field and 23% from deep. Matt Mobley, who played the primary ball handler most of the night, finished with six turnovers. Nelson Kaputo, who started at point guard, played 37 minutes finishing with one assist and went 1-6 from deep. Without Adams the club lacked that play maker on the floor that creates shots for others. SBU finished with seven assists on 24 made shots. Credit Mobley for making some big shots late in this game to even make it close (He finished with 29 points on 7-20 shooting and collected nine rebounds) but he's not a true point guard. This team needs their floor general back to shift everyone in their most effective roles. If Adams needs a highlight tape for Player of the Year honors at season's end this game should be his first submission. 
The Defensive was Offensive- We said going into the season that the Bonnies defense was one of the two biggest question marks and we were concerned. Now you see why. Niagara shot 47% from the floor, 54% on two pointers and 36% from deep. SBU failed to defend in transition where they were outscored 12-2, allowed far too many open looks and perimeter breakdowns. Kahlil Dukes went 6-8 from deep and was the difference in this game. After giving up 34 points in the first 20 minutes, Niagara poured in 43 in the second half; showing that any half-time adjustments did not yield results. Even when Adams returns and SBU's offense becomes more efficient, the defensive has to go step up. SBU's weaknesses are not only Adams' ankle. 
The Front court's debut was not Impressive- This was question mark number two heading into the opener. Consider their opening act a dud. Ayeni was more productive on the glass (10 rebounds) but showed no progress as a post scorer, missing multiple shots around the rim. He continued to look like a four man who wants to play as far from the rim as possible. Ikpeze played 11 minutes and registered four points, four fouls and two boards. Bonas 17 offensive boards were nice, but when you shoot as poorly as they did from the floor that's going to happen. Ndene Gueye, who played in the exhibition, did not see the floor. This group has got to be better. I thought it was a bit surprising we didn't see Chef in the game on Friday considering his strong-ish exhibition outing and ability to playing the 3/4 spots. 
LaDarien Griffin showed Promise- If there was one bright spot among the forwards it was certainly Griffin who was again active on both ends of the floor. Griffin finished with 10-10 and shot 5-9 from the field with an assist and a steal to go with no turnovers. He had two emphatic dunks and hauled in five offensive boards. He missed two great looks at three, but neither missed by much. Griffin should continue to see major time because of his value on defense and ability to play within the system.
Presssure is Real- We all knew this season was going to be different from an expectations standpoint. The hype and expectations surrounding this team are unlike any season in the last few decades. Is it possible that this team wasn't ready to play the front-runner on Friday? I think so. Bonas will see each opponents' best punches each night now that there's such a large target on their backs. They've got to come ready to take those punches from the opening tip this season. SBU is used to be the hunter but is now the hunted; a difficult role reversal. 
What's Ahead: The Bonnies will try and get to 1-1 on Wednesday night with a home game against Maryland Eastern Shore who plays Maryland on Sunday. UMES is ranked 327th according to almighty KenPom, making them SBU's "poorest" opponent. From there, the Bonnies can try and make it two in a row (we hope) when they host Jackson St. on Saturday. The Tigers are ranked 323rd, and open up their season Tuesday against Mercer. We will be back next Sunday with a full length post, but check back durirng the week for some shorter takes and as always, on Twitter (@bonablog) where we provide content and takes every single day.