Bonnies Stay Ram Tough, Edge Fordham in OT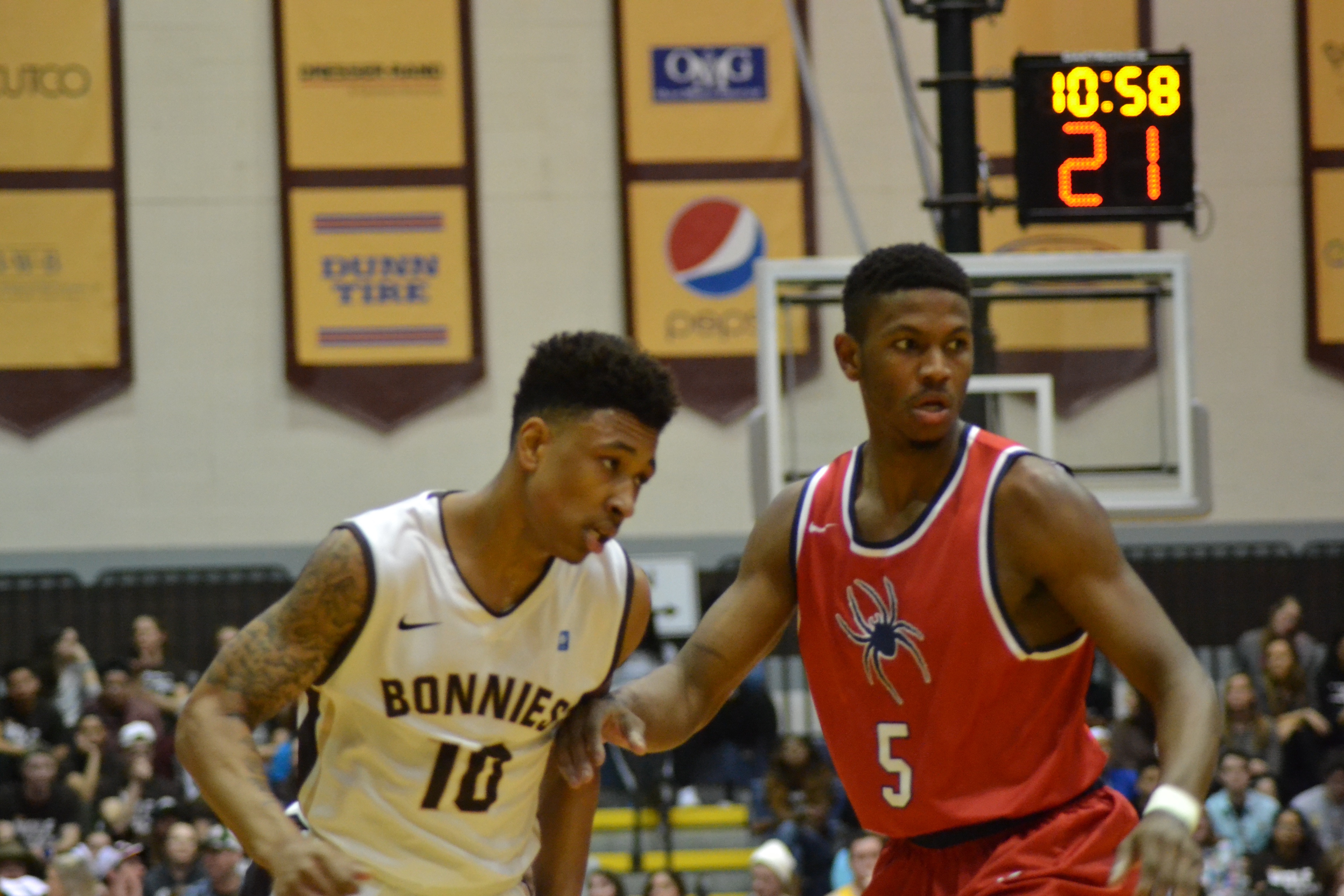 By: Cody Didas, BonaBlog Contributor
How It Happened: The Bonnies played one of their "cleanest" games of the year on Wednesday evening, allowing them to play a whole 45 minutes of basketball in just about two hours.  45 minutes is also exactly how many minutes Dion Wright, Marcus Posley and Jay Adams each played in the Bonnies 76-72 overtime win against the Rams. For another recap and notes visit Gobonnies.com 
In a game that had fans feeling like it was Sunday all over again, the Bonnies made it interesting, and then made just enough plays to earn a victory against a lesser foe. 
This time the game was on the road. 
The first half saw a lot of back-and-forth action, with both teams getting their hands in the passing lanes and at times making things difficult for the opposition's offense.  Quickly, I think everyone could tell that turnovers would be an issue in this game from the first five minutes.  Fordham is a top team nationally in stealing the basketball and so this game continued that trend as the Bonnies finished with 17 turnovers; the second most of the season. 
IT was disappointing to see the inside numbers at the half for Bonas, -4 rebounding and -4 on the offensive glass, and just really letting Ryan Rhoomes do what he wanted inside.  Bonas was able to sneak into halftime with a 31-29 lead, and with their recent outbursts in the second half, I wondered if they were going to be able to put away Fordham early on in the second. If SBU could cut down the turnovers and hold down the fort on the glass and in the paint, they should be able to steal this win in the Bronx. 
The Bonnies did just as I predicted…sort of.  They raced out to an early second half lead that would at one point reach a 10-point advantage.  The lead was built on the Bonnies ability to get out in transition and get extremely easy buckets…Stealing Fordham's strength (see what I did there?) However, an ugly point that was made earlier on in the season may have reared its ugly head again tonight…the killer instinct that Schmidt insisted this team did not have after the Niagara game.  The Purple Eagles at home are one thing, ANY A10 team on the road is another.  This team had chances to stick their theoretical scimitar into the guts of the Rams and simply failed to so.  They allowed the Rams to crawl back into the game, and it nearly (severely) damaged what is becoming a dream season.  Rhoomes seemed to do whatever he wanted down low while Fordham's young guards knocked down three pointer after three pointer.  Most of the time, I would have commended Jordan Tyson for the defending job he was doing, sometimes you just tip your cap to a better player…Tonight was a tough task for Jordan and he battled in the second half. But Pekarek?  What? The kid had 11 threes on the season before tonight, and we let him drop 19 points on us?  I guess he is shooting over our smaller guards, but sheesh…just remember this is without Mandell Thomas, don't want to think of a world where he is 100% healthy tonight…let's just saw we lucked out. 
AND WHAT IN ST. FRANCIS' PIPE WAS THE FOUL AT THE END OF THE GAME?? Really wish we could have access to the post game interview for this one, but that is just inexcusable.  I thought it was odd that the broadcast team would even mention it.  Can you imagine if we lost because of that?  That would be some sour grapes.  Per the rules, if you foul someone it resets the shot clock.  Simple rule.  Did not come back to bite us, but even a very contested look from Anderson, at the buzzer, almost went. Had that happened this loss would largely have fallen on coach Schmidt's decision to foul…or the team's inability to listen to their coach. 
To OT we go…had to like a lot of the action that went down in the extra five minutes.  Generally at that point in a game, we should be able to attack, get to line, win from there.  SBU scored a majority of their points from the line down the stretch and used a big time 16 footer from Idris Taqqee to go up three points with under a minute left. Fordham had a chance to tie the game in the final seconds but missed, a Posley rebounding a 1-2 free throws later, the Bonnies had sealed a four point road win…MP's missed FT at the end also cost betters tons of money as the game was a 4.5 spread. 
Difference for Rams: The meet-at-half-court pressure from the Rams really became frustrating for Posley and Adams. On a turnover ratio sort of night, that had some of their most difficult times as Bonnies.  Posley with 6 assists to 6 turnovers, and Adams 9 assists to 7 turnovers.  Credit the Rams defense here for really getting after it, that may just be the formula to slowing us down going forward.  You can really see the rebuild for the Rams coming together, they have some growing pieces, can challenge you now, and may be there in a few years.  I am not sure if the same could be said about them say 3 years ago. Fordham's pressure defense nearly won them the game tonight and if Bonas is going to win Saturday they'll need to be ready to handle similar pressure better against GW. They can expect the Colonials' staff to take serious notes on this game tonight…and the SLU game as well. 
Difference for Bonnies: I'll go with…the word experience?  The Bonnies basically went with a 6-man rotation tonight, I think Kaputo and Woods got a few minutes in the first half.  The amount of time played in D-1 already, and simply time played together can really start to become a factor down the stretch.  Of those 6, really only Tyson can you make the argument that he is not experienced at the D-1 level.  Pretty nice to be able to roll out three of your guys for a whole 45 minutes…not sure how many teams in the country could do that.  Experience can lead to a lot of things, especially in an OT game.  And hey, that big weapon called free throw shooting we have?  Dion is such a "secret weapon" here that we take far too much for granted.  We are 13-16 at the line, the Rams are 9-14…we won by 4. Unlike Bonnie teams in the recent past, when this club gets in a nip and tuck game inside of the final media timeout, you get the feeling they will make the plays needed to win…that happens when you have two killer guards. 
Stats: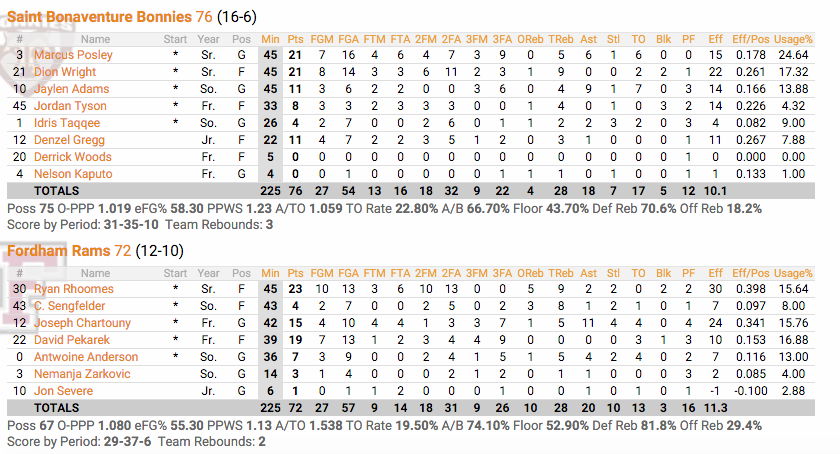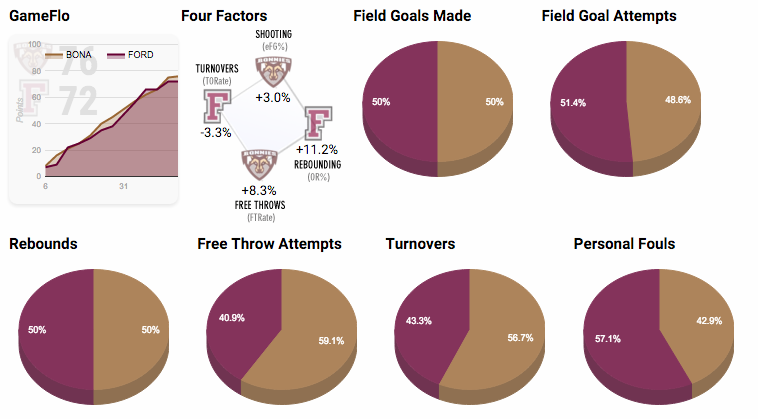 What's Next: A match-up that is already being talked about as the biggest game in the Reilly Center in years.  The Bonnies will host the George Washington Colonials (18-6, 7-4) on Saturday afternoon, as a part of Alumni Weekend.  The RC is already a sold out show and will be rocking looking to keep the Bonnies locked in to the all-important #4 seed.  The Colonials were stomped tonight on their home floor by St. Joe's by 18.  They have lost on the season: vs. #24 Cincinnati, @ DePaul, @ Saint Louis, @Dayton, vs. Richmond, vs. St. Joe's.  We will need to show up much better than the past two times out to win…but we know this team loves playing at home and will rise to the occasion. See you there!