Player Preview: Swaggy J Adams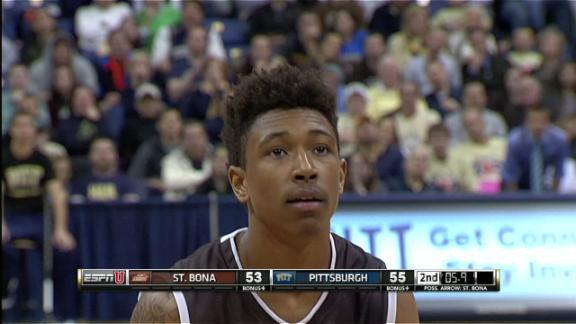 Player: Jaylen Adams, 6-1, 180, sophomore guard
Last Year by the numbers: 10 ppg, 4.5 apg, 32.4% on 3-pointers
Awards & honors: Atlantic 10 Diaper Dandy of the Year, according to Dukie V.
The low down: The other Jalen Adams was supposed to be the stud freshman for the Bonnies. Iakeem Alston was supposed to start and play most of the minutes at point. Instead, Jay Adams exceeded expectations big time, becoming the first legit 4-year PG at SBU in a decade. The Baltimore native was in the running to be conference rookie of the year until an injured finger ended his season on Feb. 13. Based on what we saw last year, Swaggy J should be ready to advance to among the best floor leaders in the Atlantic 10.
One interesting fact: Swaggy may or not be the son of former Bonnie Chris Dees.
Ayooo happy 16th b-day to my youngest son it's crazy how fast they grow up keep makin pops proud 🙌🏾 @10jadams pic.twitter.com/PH2bnzGxqT

— Chris Dees (@ChrisDees15) May 4, 2015
//platform.twitter.com/widgets.js
Do you remember?: Remember when an esteemed Bona journalism alum promised Swag would play in last year's A-10 tourney? Silly!
Biggest Strength: Adams cherishes the ball and makes sound decisions, factors that helped him gain the trust of his freshman-weary coach. He registered a 2.3-1 A/TO ratio for the season and dished out 63 assists to just 15 turnovers in the 11 conference games he played.
Glaring Weakness: Adams didn't shoot the ball well, particularly during conference play when he connected on only 31.3% overall and 20% on 3-pointers. The Bonnies need Adams to shoot better than 26-83 from the field.
On YouTube:
[youtube https://www.youtube.com/watch?v=Qr9_TnLqs8g]
Quotable: "Adams is a great four year find… and with the way Schmidt develops players, Adams is sure to expand his game." — Chris DiSano, Cox Sports
Best Case: Adams backs up his successes from his freshman year and the name "Swaggy J" becomes one that is household in all corners of the A-10.
Worst Case: He encounters the dreaded sophomore slump and touted freshman Nelson Kaputo unseats him from the starting role.
.