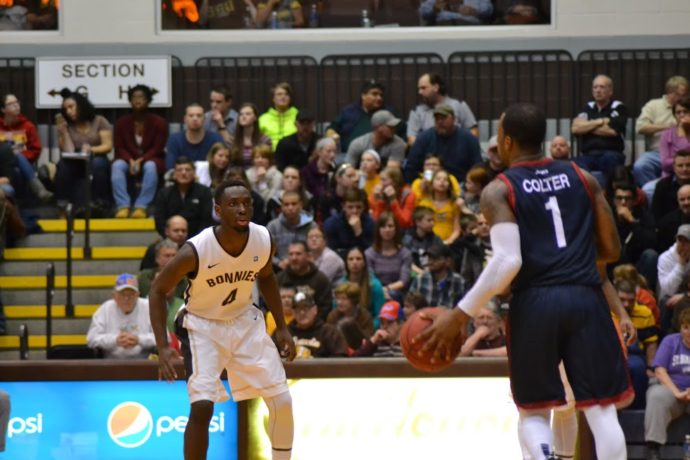 Breaking: Nelson Kaputo To Miss First Semester
The News: According to sources sophomore guard Nelson Kaputo will miss the first semester of the season after being declared academically ineligible.
Kaputo will have to pull up his grades in order to play the second half of the season. It had been reported that Kaputo missed the team's scrimmage with Kent State over the weekend due to a concussion. It appears that rumor was untrue.
Essentially, Nelson will miss all of the non-conference games and be eligible, depending on grades, for Atlantic 10 play. What a blow to both his development and to the Bonnies' chances of having a huge non-conference in terms of wins.
Update: J.P. Butler of the OTH has confirmed that Kaputo will miss at least the first nine games of the season. At that point he may become illegible to play again. 
The Take: Well, after learning last week that guard/wing Courtney Stockard would likely miss the entire season with another foot injury this is a huge blow to the team's depth. Now, the Bonnies lose a versatile wing scorer and their back-up point guard in the span of a week and a half.
There's no doubt that Jay Adams was going to play upwards of 36+ minutes a game to begin with, but with the loss of Kaputo, his presence on the floor will be virtually guaranteed for every minute of every game (save major foul trouble). Adams has no safety net and Schmidt has no back-up point guard…well, no "true" one anyway.
Kaputo would have been another scorer in the back court, and a capable shooter to stretch defenses. His ability to get into the paint and make a defense move with his first step will be missed. His offensive game was a bit of a "change of pace" compared to Adams who isn't the same type of point man that Kaputo is. Kaputo was so good at getting into the defense and kicking the ball out, whereas Adams thrives on moving the ball around the perimeter, making good decisions while under control and taking advantage of his shooting range.
Further, Kaputo showed an ability to play solid defense in flashes a year ago; that too is lost.
What does it mean for the rest of the roster? It means that Adams and Matt Mobley will still be asked to play huge minutes; we knew that going into the season. But it means the back court is that much more thin. It means that you'll likely see a lot more of freshman Tareq Coburn and maybe even sophomore LaDarien Griffin. Is Coburn ready? Has Griffin improved drastically vs. a year ago? We are likely about to find out. 
Foul trouble and any injuries from here could cripple this team vs. average foes.
The depth the Bonnies had back in the spring and even a few weeks ago is gone. This team, at least for the non-conference schedule, will likely go seven or eight deep most nights with no margin for injury going forward. But hey, we've been there before.