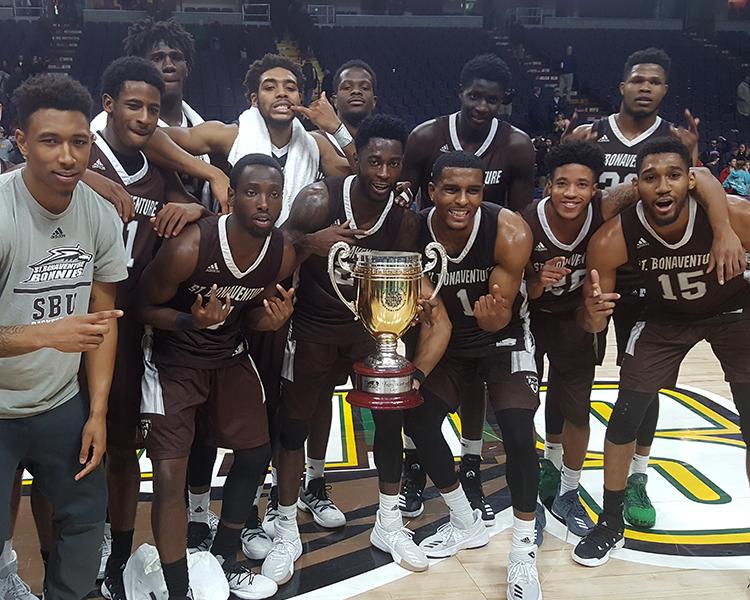 Sunday Synopsis (S17, V4): The Cup Is Back And So Is Defense
(Photo taken from GoBonnies.com)
Opening Statement: Mark Schmidt's club capped an impressive two game week with a pair of wins over a few local rivals. On Wednesday, the Bonnies easily dispatched the Siena Saints on the road by a score of 75-55 to win the Franciscan Cup for the second straight year. Despite playing without Jay Adams once again the Bonnies got 22 points and seven rebounds from Matt Mobley and a career best game from LaDarrien Griffin who finished with 18 points, 11 rebounds and four assists. In a rivarly filled with one possesion finishes, Wednesday night's game was anything but. Jay Adams continued to practice this week and finally suited up Saturday at Buffalo for a highly anticipated game against the up and coming Bulls. While Adams didn't appear anywhere near himself, the Bonnies used some gritty defensive work to earn a 73-62 win. Bonas shot just 37% from the field and struggled big time to score inside, but held UB to 33% shooting and forced 16 turnovers. Many assumed this year's Bona team would be an offensive powerhouse and struggle defensively; yet through six games that could not be further from the truth. More on that later, but the Bonnies have now won five of their last six and seen their RPI shoot up. This week presents SBU with a great chance to move to 7-2. 
Suggested Reading: 
J.P Butler writes about Jay Adams return to the Bonnies in the OTH here
Chuckie Maggio writes about Idris Taqqee's last Franciscan Cup here
A10Talk.com Writes about 5 things the Like and Don't about the Bonnies so far here
Where they Stand:
| | | | |
| --- | --- | --- | --- |
| Record | RPI | SOS | Vs. Top 100 |
| 5-2 | 89 | 133 | 1-1 |
Five Up:
Mobley Continues to Play Lead Actor: Mobley is once again our Player of the Week and for good reason: He continues to carry the team in Adams absence. Mobley scored 25 and 22 points this week and continued pace the offense. Whenever the Bonnies most need a bucket he seems to get it despite increased defensive pressure. Mobley's ability to score the ball playing alongside Taqqee, Brockington and Kaputo has been great to see. 
Historic Defense?: Never thought we'd be typing this, but this teams' defense leads the A10 in scoring defense and is on pace to be Mark Schmidt's best ever defense (more below). Bonas continues to hold teams under 70 (Five times) and the metrics are sound everywhere. Bonas ranks 24th best nationally in 3PT% defense, 15th best in Steal %, 24th best in TO% and 41st in Effective FG% defense. If the offensive improves like you'd expect when Adams returns the forms this team could be scary good (Wouldn't hurt if the forwards improved too).
The Turnovers Continue: We said last week it would be interesting to see if the Bonnies could continue to turn people over. Well, they have. SBU forced Siena into 13 turnovers and UB into 16. Those 29 turnovers in 80 minutes of basketball ain't bad at all. Matt Mobley had four on the week. 
Stockard Still Worth the Wait: Stockard (11.4 points, 6.2 rebounds) continues to be a bright spot for SBU. His ability to score on drives to the basket are his biggest strength but he's also a good defender and rebounder because of his size. Stockard hasn't been a good shooter (16% 3PT and 66% FT) but man can he get to the rim. His 19 points and nine rebounds Saturday were huge for the Bonnies. Like everyone else, he should find it a bit easier to score with a healthy Adams on the floor. 
Team Depth: If nothing else Jay Adams' injury has allowed other Bonnies to not only see the floor but also play well. Brockington has looked very promising on the floor (47% of team's minutes) and the same is true for Nelson Kaputo (53% of minutes). Kaputo played just 14% of the team's minutes a year ago. Neither player would have gotten the amount of time they are if Adams never rolled his ankle. The result should be a more confident, ready and tested bench heading into the league play. 
Three Down: 
Post Play still an Issue: No matter your level of optimism it is hard to consider the output from the Bonnies forwards as anything other than very poor right now. Ayeni simply cannot score inside or at the rim (26% shooter at the rim) and commits far too many fouls (7.6 per 40 minutes). His 3.1 rebounds in 18 minutes of work aren't good enough either. Ikpeze is a much better finisher at the rim (55%) but also can't stay on the floor due to foul woes (6.9 fouls per 40). Ikpeze's defensive rebounding rate is also down 7% vs. last season (18% to 11%). Gueye simply does not look ready to contribute down low at this time. Unless the Bona bigs show a drastic improvement before league play Schmidt may need to consider playing small and running out a lineup that plays Stockard/Chef at the four and Griffin at the five as much as possible. 
A10 TV Deal: This has nothing to do with Bonaventure but how nice was it to watch the game on ESPN3 yesterday in picture perfect clear HD? If the MAC can get that deal (and get seemingly every one of their games on that platform) how can that not be the case in the A10? If Bonaventure does not have the means to get an HD video truck it would be nice if the league stepped up their TV package. There's no reason that we should be watching this team (as good as they are year after year) on the quality of stream we are. This is a great team and we should be watching them with great video. 

Free Throws: 

Don't hit the panic button just yet, but Bonas had another poor week at the foul line shooting just 66% against UB and 56% against Siena. Bonas is now shooting 70.5% from the line (170th). Last year SBU shot 66.9% which was 17th best in America. As Adams plays more this percentage will go up, but Bonas hasn't been good at the line this season. Hurting the team most at the line thus far are Griffin 63% and Stockard and Ayeni at 66%. 
Player of the Week: Matt Mobley. How's this for quality offensive ratings this week: 143 against Siena and 138 against Buffalo. Mobley scored 47 points this week, grabbed 11 rebounds and knocked in 7-16 three pointers. Matt played all but six minutes in the two games and was again the Bonnies big offensive weapon without a "100%" Jay Adams at his side. Mobley continues to be among the national leaders in scoring at 22 points per game. He is shooting 38% from three thus far. 
Good Stats of the Week: UB entered Saturday's game coming off a 106 point effort against Niagara but Bona held the Bulls to 33% shooting, just 24% shooting from deep, forced 16 TOs, and out-rebounded Buffalo 50 to 38. SBU continues to lead the A10 in points against per game (64.3). Bonas' defensive efficiency is ranked 67th which is the highest mark that KenPom has on file going back to 2002. Safe to say this team is off to a great start defensively which is a pleasant surprise. That defense will only get tested more come the new year.
Bad Stats of the Week: Bonas shot a putrid 38% on two point shots on Saturday. Bona averaged 48% shooting on twos which ranks 206th nationally. Josh Ayeni was 0-7, Amadi Ikpeze was 2-6 and Stockard was 5-12. Further, Bonas got 10 rebounds from their true bigs in Ayeni, Ikpeze and Gueye who commited 10 fouls. Ayeni played 11 minutes, Ikpeze 13 and Gueye eight. 
What's Ahead: SBU travels to Canisius on Wednesday night to play the Gifffins who are 4-4 and ranked 226th on KenPom. The Griffins have played a really poor schedule with their best win coming against 221st ranked Texas State on a neutral floor. Then, the Bonnies returns back to the RC for the first time since November 20th to face Yale who is ranked 120th. Yale has played five top 100 teams already but lost to them all. Their closest loss in that group was a six point loss to Vermont. Yale sports a very good perimeter defense and is 65th in the country in effective field goal percentage. 
Looking for some new Bonas Hoops gear? Look no further than the Spors Locker, Olean's number 1 sports outlet. They've got new for 2017 Wolf Pack shirts and a new Lady's V-neck as well. Check them out online here or in town before your next trip to the RC!