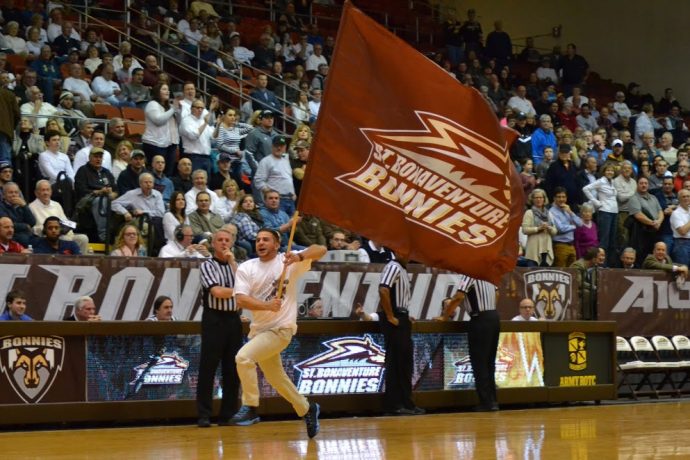 Thank You and Farewell
The word Bonaventure means "The Good Journey."
Us Bonnies know that very well. 
Here at the Bona Blog we've had our own Good Journey since we created a little website to follow the basketball program we love so much. After graduating in 2008, I knew I wanted to stay connected to the program that I spent so much time around during my four years on campus.
Thus, The Blog was born as way to stay a part of that community I was leaving. 
In creating The Blog, I continued to invest a great deal of time to this program, and devoted the same type of time commitment I made back then, attending practices every day of the year and doing office work until all hours of the morning.
Just as I prepped for each game as a student assistant (manager for those of you who prefer that title), I prepared for those games here as we wrote endless opponent scouting reports, did Q and A's with follow bloggers and journalists and interviewed assistant coaches, radio guys and even Phil Martelli's grandson. We broke some news, recorded some podcasts, took pictures, helped find one of the greatest Bonnies of all time (Probably our best work ever, thanks to Vinny) and got his number retired, and probably ticked off some people along the way too. We were far from perfect, but we tried like hell to provide quality content for our readers each time we wrote. 
When a game ended it wasn't the end for us as writers; that's when it was time to get down to work and write game recaps, provide insights and often be the critical voice of student athletes that can often be downright uncomfortable. Cranking out game recaps until after midnight became a way of life; and they had to be written no matter how crushing the loss. 
If you've ever wanted to find out how much of a die hard fan you are, write post game recaps about losses to teams in the Little 3 when you're home for the holidays; or better yet, interrupt your vacations abroad to watch the Bonnies and then write your recaps from the hotel lobby using their porous WiFi. 
With all that said it is time to "retire" the website.
This decision is a difficult one to make, and one that I have been juggling with for the better part of six months. Running the Blog is a true labor of love, something that I have truly enjoyed since we opened up "our doors" so to speak years ago. 
The writing, research, editing (never my strong suit as we know), image collection and editing, social media posting and the like takes a great deal of time. While my passion for the team is as a strong as ever, simply put: Life Changes. The amount of time I was willing and able to devote a few years ago, I cannot do today. 
I came to the conclusion that if I was not going to write consistently, extensively, and cover the team's nearly every game that I wasn't going to cover them at all. I wasn't going to put out a shoddy website to cover the team we all love so much. 
So this is it (barring a come of out retirement decision like Brett Favre), we're hanging em up. 
I want to specifically say thank you to the following folks who helped The Blog in one way or another at some point. First, to all those who contributed to the website over the years I thank you for your time and dedication. There's been a lot of folks who've made this website what it is today and that's a result of the hard work of a group of individuals who wrote for the love of the team. Some of those folks are still in contact with me, some are not; all of their work is appreciated. 
To Vinny Pezzimenti, who was my number two contributor this entire time. Vinny was hands-down our best writer and he penned several masterpieces that painted amazing pictures in our mind of Bonnies past and present. You're the man. 
To Chris DiSano, who hooked me on A10 blogging and hoops writing in the Spring of 2008 with his CollegeChalkTalk website. Chris knows more about the league than anyone out there and became a great friend over the last 10 years. Our conversations about the league will continue whether or not I'm running a website. 
To Bonas' SID Steve Mest, who always granted us access to coach, the RC and players so we could cover the team like anyone else. We appreciate your partnership a great deal.
To former AD Steve Watson and current AD Tim Kenney, who were always happy to us in the RC and made us feel welcome each time. Thank you, fellas you've done a great job leading the way. 
To Mike Vaccaro, who guest wrote with us last year. Mike surprised me when he agreed to write about once a month last season when I asked him out of the blue via Twitter. Well, once a month turned into about every week, as the team gave Mike more food for thought that we could have imagined. His articles were obviously the most viewed on our pages, and we were honored to have him along for the ride. Mike is clearly a superb writer, but he's an even better guy.
To all my fellow A10 bloggers and friends in the Twitter-Verse, I thank each of you. Interacting with you all during the hoops season helps to pass the Winter. I've made friends with folks from every school in the conference, even St. Joe's and VCU believe it or not…
To the coaches and players, for always giving 100% and for giving us so much to cheer about. Mark Schmidt, his staff, and players have built from the ground up a real, consistent, winning, NCAA Basketball program. A program that not only survives, but thrives in the A10 each year. The job you've all done in the past ten years is nothing short of remarkable. We've been critical because that's our job. We hope you'd agree that we've also been fair and that our thoughts have been grounded in statistics and sound observations. We're you're biggest fans and will continue to be. You should all be beyond proud of the program you've built and joy you've brought to our small university and alumni. 
Finally, a thank you to our readers. This if goes to those who have read us each day of the season, or even just one time and never come back. We have loved sharing our thoughts and opinions with you on this platform. Bona fans are THE reason why the program is what is it today, and the reason why so many of us are fanatical about this team today. We've received so many kind words and messages over the years and have appreciated every one of them. We loved interacting with you and sharing our passion for the program with you.
To those of you who weren't the biggest fans of the content we created or our various opinions of the program: I hope you would agree we covered the team with passion and professionalism; regardless of whether or not you agreed with us. Debate and friction is what generates progress. We hope you'll continue to provide an alternate view point in the future.  
Speaking of the future, if you're interested in following us further we can still be found on Twitter @BonaBlog where we will continue with much shorter, more random insights, opinions and breaking news when it comes to us. Hopefully we will still "see" many of you there.
Again, we sincerely thank you for reading, following and supporting us all these years. As always, Go Bonas. 
- Ian and The Bona Blog Staff