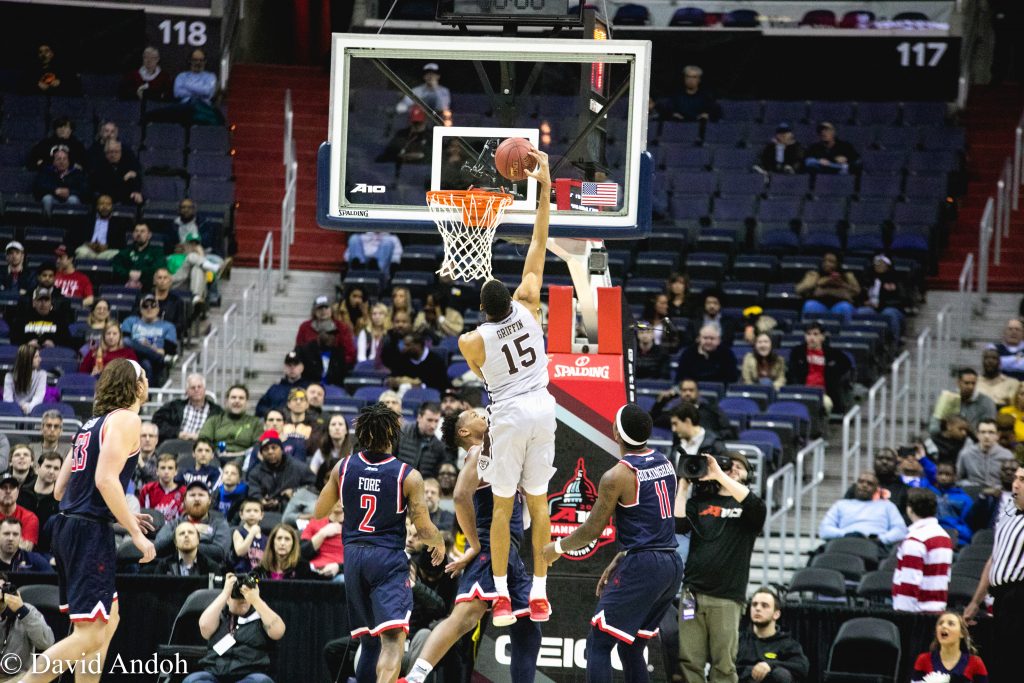 Vaccaro: Wrapping up a Magical Bona Season
By Mike Vaccaro
I have consistently followed the advice of my first boss, Chuck Pollock, for the better part of 30 years. Back in the day, I worked for Chuck at the Olean Times-Herald where my primary duties were covering the 1989-90 and 1990-91 versions of the Bonnies, also known as the first two-thirds of the Tom Chapman Era at St. Bonaventure, otherwise known as "Seasons In Hell Parts 1 and 2."
Anyway, one of the first lessons Chuck imparted on me was this:
You will get calls about recruiting every week of the year. You will get more calls about players who aren't Bonnies, or aren't yet Bonnies, or have no chance to ever BE Bonnies, than you will get about the actual players on the team. There is an element of this fan base – of every college fan base – that enjoys recruiting more than they ever will the actual game.
"These people," Chuck ruefully advised me, "are almost never happy people."
But Chuck also stressed that these were among the most loyal and fervent readers of the Times Herald sports section, they were the ones who would buy you a sandwich at Hasta's or a beer at Angee's and bend your ear for an hour about this forward from Philly who's visiting next weekend or that guard from D.C. who's thinking about reneging on his commitment to James Madison or the diamond-in-the-rough up in Toronto who's been flying under everybody's radar.
"And here's the thing," Chuck always said. "These people know. Don't ask me how. But they know."
So as a reporter, he said, this was part of your deal, part of your job description. There was one guy – for the purpose of this story, I'll dub him "Delmar Llewellyn" – who called every Tuesday. Delmar never wanted to talk about Saturday's game with Duquesne. It was always about recruiting. Always. I talked to Delmar more than I talked to my parents in those years, more than I talked to my girlfriend. Which leads me to Chuck's ultimate words of wisdom when I left the paper, and when I could return to simply rooting for the Bonnies, rather than writing about them.
"Worry about the players you have," he said. "Not the ones you don't."
Mostly, I've heeded that advice.
Except there I was Monday evening at a quarter to seven, glued to my seat in the Citi Field press box where I was scheduled to cover a Mets-Marlins game, glued – more importantly – to a Twitter video feed originating in Connecticut, at Putnam Science Academy, where a 19-year-old kid whose name I'd never even heard of a month earlier was about to either make my night or ruin my week.
Yep. Somewhere along the line, I apparently became Delmar Llewellyn.
It didn't really matter that more than a few folks – folks who, as Chuck used to say, knew – had already alerted me that all signs pointed to the fact that this 6-foot-10, 185-pound prospect named Osun Osunniyi had actually made up his mind, that he was Bona Bound, that the show taking place on my laptop screen was mostly to allow him his moment in the sun. I was going to watch. I was going to see the big reveal – we figured he'd go with the old-standby baseball cap, but young Osun changed the game a bit by opting for a sweatshirt instead – and wait for the magical words "ST. BONAVENTURE" to appear on at least one of his garments.
And then, there it was.
And I have to tell you, I've been following the Bonnies for a long time – not as long as some, I don't go back to Lanier and Kalbaugh, wasn't born yet for the Stith brothers and Freddy Crawford – but 33 years is still a little something more than a small sample size. And up until a year ago, I can testify with absolute certainty that these are two sentences I never, ever, EVER expected to be able to say in my lifetime, no matter how long that lifetime lasted:
"St. Bonaventure defeated UCLA in the NCAA Tournament."

"Player X chose St. Bonaventure over his other two choices, Syracuse and Georgetown."
And yet, son of a gun, within the space of 69 glorious days in the late winter and early spring of 2018, both of those sentences occurred. On March 13 the Bonnies capped that 26-win dream-ride of a season by beating the Bruins, winning their first NCAA Tournament game in 48 years, killing off a lot of ghosts that had tried to haunt the program in the near half-century since. And on May 21, Osun Osunniyi became Player X. He could have gone to Syracuse, played in the Dome, played for a Hall of Fame coach (and been given the absolute benefit of the doubt whenever necessary on each of the four Selection Sundays to come, let's be brutally honest about that); he could have gone to Georgetown, which has long been a place where kids of his height learn to become men of dynamic force, where he could have learned the tricks of the trade from one Patrick Aloysius Ewing (and a school where, again, just being honest, the whims of March might tend to be a little friendlier).
He picked St. Bonaventure instead.
Son of a gun.
Time for a wee buzz-kill here.
One of the reasons why my old boss Pollock was so ambiguous about recruiting was a simple one: as good as a kid's reputation might be, as good as his numbers might be, there is no guarantee he'll ever become the player he's touted to be, and that's just an incredibly unfair burden to place on a teen-ager. And if you don't think that's absolutely dead on, I'd remind you that as spectacular a career as Jaylen Adams had, when he enrolled four years ago he was, by acclimation, very much the "Other Adams". Jalen Adams had sat out the year before, reports were that he was killing it in practice, that he was going to be a ready-made Atlantic 10 impact player … and he scored exactly 24 points in 14 games before transferring to Mott Community College, then to Division II Wayne State and, finally, to Division III Olivet College (where, in a happy twist to his story, he averaged 26.2 points and 10.7 rebounds in leading the Comets to a 16-11 record this year as a senior).
It's also worth recalling that the most ballyhooed recruit the Bonnies enticed before Osunniyi was probably Tim Winn. And while he is best remembered for being the leader of the team that finally broke the school's 22-year NCAA Tournament drought in 2000 and took Kentucky to double-overtime once they got in, he was also considered something of a disappointment across his first three years on the team, experiencing difficulty on and off the court. He was also right at the forefront of the brave new world of the Internet, when chat rooms and message boards first became prominent, so his every step and misstep – as well as classmate Caswell Cyrus, not quite as celebrated coming in but every bit as scrutinized once he got there – were grist for the ever-growing mill.
Point?
It is absolutely fair to be delirious with excitement that Osun Osunniyi has decided to check out the Good Journey. It is absolutely fair to wonder if the incoming freshman class of Osunniyi, his prep school teammate Kyle Lofton, Dom Welch (who only is the all-time leading scorer in Western New York high school history), and Alpha Okoli (plus junior college transfer Melkisedek Moreaux, plus Mount St. Mary's transfer Bobby Plautis) is the greatest potential recruiting class in the program's history (and, don't worry, after another sober paragraph of two we'll dive into that). It is also important to remember that none of those kids has played a second of ball at Bona yet. It is a fact of life in college sports that recruiting can boil the blood in ways few other things can. The potential of what's possible, of course, is always a little bit better than the reality of the known.
We've grown accustomed to kids adjusting right away – Jay Adams as an unknown freshman, Marcus Posley and Matt Mobley as junior-eligible transfers, Courtney Stockard as an oft-injured afterthought vaulting into almost immediate status as an essential element in the winningest team of all.  It can be easy to forget just how common – probable, actually – growing pains are. And will likely be, for at least some of those recruits
That said?
Son of a gun.
Son of a GUN.
There are two perfectly delicious things to ponder about this, and why don't we start with this one, which doesn't necessarily shine a splendid light on most of us, which maybe shows a little too much of our petty side, which proves that while we may espouse the ways of Francis we don't always walk his walk or talk his talk, we don't always volunteer to be an instrument of his peace.
Sometimes, it's more fun just to be an instrument getting in the arrogant, miserable, entitled, orange-tinted faces of Syracuse fans and reminding them: that's two wins in a row now for the Good Guys, thank you very much. There was the 60-57 victory that actually occurred in a basketball game at the Carrier Dome back in December, maybe the first moment we all had an inkling of what might be possible with this team but certainly a visceral triumph that was only 36 years in the making. And now there was this: a basketball player wanted by both Syracuse and St. Bonaventure, recruited by both, coveted by both.
Choosing the Bonnies over the Orange.
For Bona fans of a certain age, it was impossible not to think about the winter and spring of 1976, when both schools made impassioned runs to land Roosevelt Bouie, a 6-foot-11, 225-pound center out of Kendall High School, hard by Lake Ontario, about 30 miles from Rochester. Remember, in '76 the Bonnies and Orange were, essentially, basketball equals, each having gone to a recent Final Four (Bona in 1970, Syracuse in '75), both playing for essentially the same perk, the automatic NCAA berth that went to the ECAC Upstate champ. This was a head-to-head battle between two of Syracuse's favorite sons, Jim Satalin (who'd migrated to Bona, who was finishing his third year coaching his alma mater) and Jim Boeheim (SU's lead assistant, a year away from starting his Hall of Fame career replacing Roy Danforth). It was a heated battle, and in the end Bouie chose Syracuse, and if you wish to pick a line of demarcation when the Syracuse-St. Bonaventure basketball relationship changed forever, well, that's a pretty good spot. By the end of Bouie's career he would be an All-America, the Orange would make four trips to the NCAA (to one NCAA and two NITs for Bona), they would be a charter member of the Big East (while the Bonnies settled in the Eastern Eight) and … well, that's just the start. Maybe things progress exactly the same if Bouie picked Bona over Boeheim. But we'll never know for sure, will we?
So, sure: once it became apparent Syracuse wanted Osunniyi too, that became a Thing. The fact that the other suitor was Georgetown just added to the intrigue. Look, for decades now the Bonnies have made a habit of beating out Fairfield and Akron for players, not Syracuse and Georgetown. In truth, the way Mark Schmidt has built the program into what it is now is by taking a chance on his eyes and his instincts far more than however many stars may appear alongside a recruit's name, then trusting the ability of he and his staff to develop those players (not a terribly different strategy than Jim Baron used during his own renaissance years coaching the team). You think of the Schmidt Bonnies, of course, you think of Andrew Nicholson – whom the Bonnies got in with before he started to gain attention. But in many ways the classic Schmidt player is Dion Wright – an under-recruited over-achiever. This has worked well. It's also been a source of regular frustration for the fresh generation of Delmar Llewellyns who still care more about the players you're getting than the players you've got.
Well, Osunniyi satisfies them, too.
And oh, my goodness, how it burned the Orange fans, who had spent the week leading up to Osun Osunniyi's decision haughtily predicting – nah, expecting – for the kid to slip into an Orange hat and join the Syracuse factory, who showed up n vast numbers during the live Twitter feed to talk a lot of smack, and they were everywhere on the comments section at 6:15, and 6:30, and 6:43 …
… and by 6:46 they were dismissing Osun Osunniyi as "not that good," among other things, and then proceeded to spend the rest of the night on fan boards trashing him, trashing his decision, trashing Schmidt, trashing Bona, and generally reinforcing every stereotype you might possibly have about Syracuse University and the unfortunate masses who choose to root for its basketball team.
(And, yes. That felt VERY good to write.)
So just how good is this class?
In a lot of ways, the most storied recruiting class in Bona history is the one that never happened, but one that the ever-ambitious mind of Jim O'Brien tried desperately to pull off. Over a series of weekends in the fall of 1982, O'Brien received official visits from Olden Polynice (who wound up succeeding Ralph Sampson at Virginia, led the Cavaliers to the 1984 Final Four and played 15 seasons in the NBA), Mark Jackson (who starred at St. John's, was the NBA's Rookie of the Year in 1987, and played 17 years in the league) and Dave Popson (who played four years for Dean Smith at North Carolina and parts of four years in the NBA and who's father, Bernie, is a member of the St. Bonaventure Hall of Fame as a football player).
Of course, none of those players wound up coming.
The pairing of Tom Stith and Whitey Martin, both members of the Class of '61, was the first genuine 1-2 recruiting punch that raised eyebrows, same as the Bob Lanier-Billy Kalbaugh duo pushed the program to unprecedented heights nine years later. The Class of '78 featured Greg Sanders and Glenn Hagan, and they accomplished remarkable things together, as did Winn and Cyrus (Class of 2000). In some ways – and, yes, this is, remarkably enough, a tribute to Chapman – one of the most important recruiting classes in school history was the one that entered in 1991 and graduated in 1995, anchored by David Vanterpool, Nii Nelson-Richards and Jeff Quackenbush, who experienced so many tough times as freshmen, sophomores and juniors but as seniors delivered the beautiful 18-13 surprise of 1995 that included an NIT win (the program's only postseason victory between 1970 and 2018) and in so many ways changed the culture surrounding the program forever; after that, it really was possible to win again at St. Bonaventure. They'd proven that.
This group? They are part of an already-existing culture. You suspect that part of the reason any or all of them wanted to come in the first place is because of what the Jaylen Adams/Idris Taqqee pairing showed over the past four years, that this wasn't just a program that could occasionally win, but regularly. They still have all their games to play, all their careers ahead of them, but they've managed to do what seemed impossible given the basketball bounty of the past seven months: just by agreeing to come, they have the fans already looking forward to the new season, even as they savor the last.
And the last?
Well. Let's put it this way: for two months I wanted to write some kind of wrap-up for that, which would serve as a thank-you both to Ian Nolan, who runs this blog, and to you, who not only read so many of these endless screeds but often provided feedback and support for them and, of course, to this team, which delivered us to such dizzying heights (and, sure, a few nauseating lows). And I never did, and here's why: toward the end of that last game, as Florida pulled away from the Bonnies and it became apparent that someone else (Loyola, as it turns out) was going to be the real Hickory High of this NCAA, the TV cameras fastened themselves on Taqqee, sitting on the bench, his college career ending and this dream ride for which he was such an essential co-pilot finally returning from orbit. And in his face, at that moment, was everything I was feeling about that season, and everything I know, with certainty, you were feeling: joy, sadness, achievement, disappointment, all of it in his eyes, all of it in his face. Nobody can accurately capture that in words and sentences and paragraphs, so I didn't even try. But I do know this:
I want to feel that way again someday.
Monday night, watching a fuzzy video on Twitter, wasn't that, not quite, not yet. But it was a splendid first step on the way toward replicating that moment. Let's get started. Let's go. Let's GO.