Player Preview: Courtney Stockard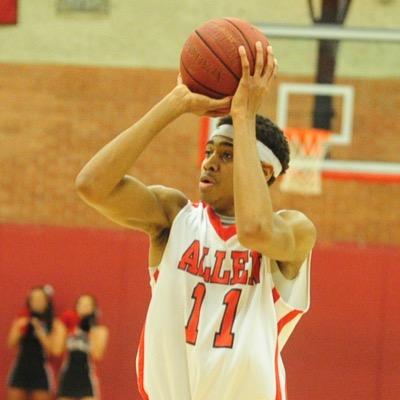 Player: Courtney Stockard, 6-5 Junior Wing (#11)
The low down: Stockard comes to campus as the Bonnies' biggest unknown (of the new players anyway). Billed as a scoring "wing" type of player, you'll have to forgive fans if they choose to take a wait-and-see approach on the Juco transfer. While Stockard put up some gaudy numbers at Allen Community College, we all know those mean just about nothing when it comes to forecasting A10 production. We all recall Lewis Leonard who averaged close to 30 points a game in Juco before finding a permanent seat on Mark Schmidt's bench before departing. Stockard will likely be giving a shot at major minutes from day one, and his experience on the Juco level give him a leg up on the two freshman. 
Quotable: "With his height and length, he's very versatile. He does little bit of everything. He really gets to the rim and finishes- whether it's in transition or in the half court. He is very saavy and knows how to draw contact. He's a really good rebounder … he crashes the glass" Andy Shaw, Juco Coach
Last Year by the numbers: Averaged 23.2 points, 48.5% shooter, 32% from 3PT, 75% FT. 
Biggest Strength: Based only on what we're reading/hearing Stockard seems to be a versatile, well rounded player who could chip in via different ways and is a plus rebounder. I'm wondering (again based off never actually seeing him play live) if a Chris Johnson-type of comparison is fair. Johnson was a solid rebounder, good athlete, decent enough shooter and often came off the bench to contribute multiple items in the box score. If Stockard has a similar career to Johnson we'd all call it a win.
Glaring Weakness: No where in Schmidt's quotes of his former coaches quotes do I see anything about Stockard being a kid who can really shoot it. Maybe he can (maybe he can't, time will tell), because this team could use a shooter to help take some pressure of Posley and Adams who will enter the season as the team's only deep threats. Again, we don't know what his weakness is at this point but if I had to guess this could be it.
Best Case: For this year: solid contributor who does a bit of everything. He plays multiple positions and averages something like ten points and four rebounds and shoots a good percentage from the floor and the line. 
Worst Case: Stockard struggles to make the leap from junior college to the Atlantic 10 and spends most of his junior season on the bench behind the likes of Posley, Gregg, Taqqee and one, if not both the freshman…though I doubt they are more NCAA ready than Stockard at this point.