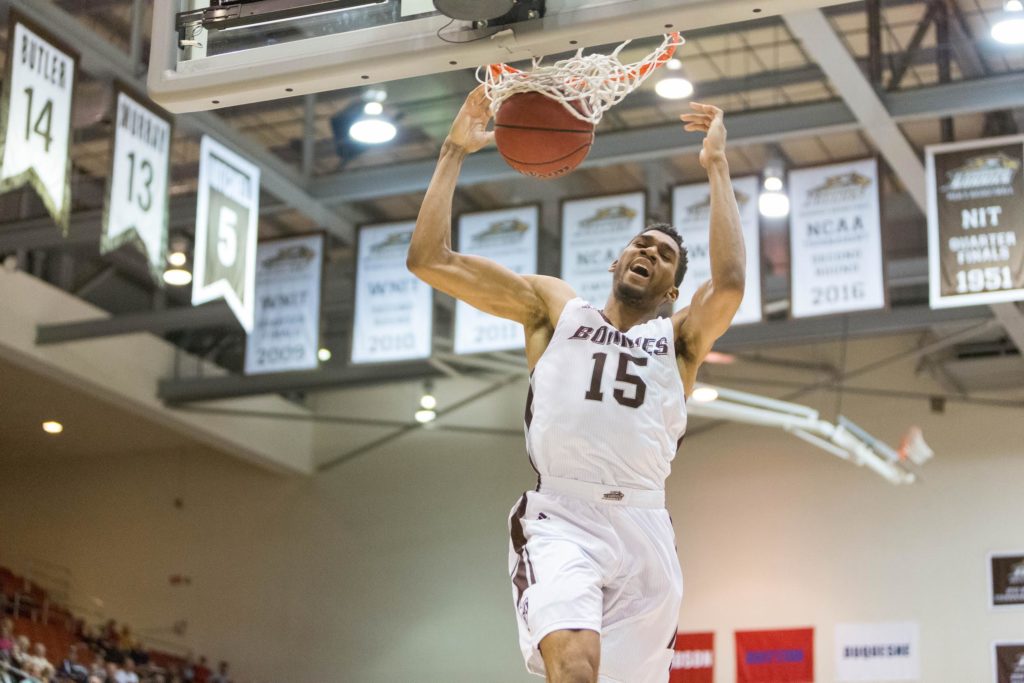 Four Mile Brewing Post Game: Bonas 92, Army 83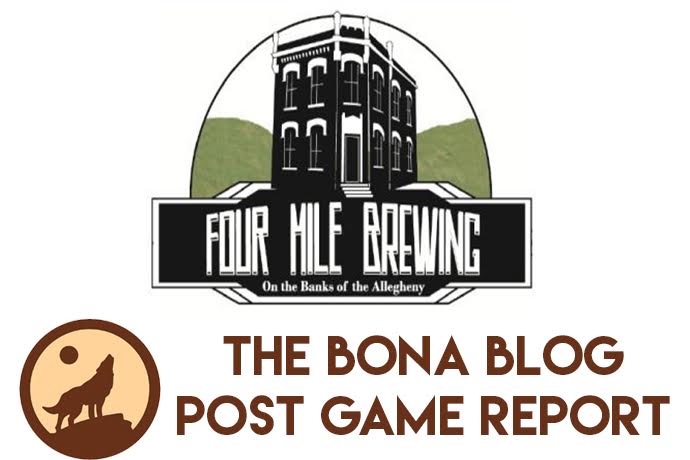 Quickly
Jay Adams scored a career high 31 points tonight, surpassing the 1,000 point mark for his career and led the Bonnies once again to a closer-than-comfort win in the Reilly Center. The final score was 92-83.
The Bonnies and Black Knights were tied at 43 at the break, but SBU eventually clamped down enough defensively, and got a big second half from David Andoh to pull away for the win. Army used their potent three point shooting to put a big scare in Bonas for about 37 minutes, but the Bonnies had too much firepower in the end, going over 90 points for the forth time this year. Adams also dished out ten assists in another stellar effort from the junior point guard. 
For the GoBonnies.com recap, click here.
 5 Takeaways
Three Point Defense-

 We warned our readers that Army would take a ton of three pointers and that if they were dialed in, this could be a long night for the home team. Fortunately, SBU did just enough in the second half to earn the win. Army was 8-14 from deep in the first half, but just 3-9 in the second. SBU had major issues stopping dribble penetration the entire game and Army was able to translate that into open looks from deep and plenty of easy lay-ins behind the defense. I was really impressed by their offensive game and equally disappointed in our first half efforts on that end. Bonas won't win many games at all in the A10 if they allow foes to shoot 48% from deep like tonight. They've got to correct this issue before Thursday night and then UMass. I'm optimistic they will, Schmidt usually gets his teams to improve as the season goes on.


Andoh's the Secret Weapon- David Andoh has really come on like a gang buster these last few games. He scored 15 points against UNCW and hit many big shots down the stretch. Tonight, he gave SBU a huge lift offensively in the second half, hitting back to back threes which gave the team need energy and a lead. Andoh finished the game with a career high 15 (tying that UNCW game) points and had four boards. He was 6-10 from the field and has established himself as one of the five on the floor in the games final minutes, without question. He's scored in double figures in five of Bonas last six outings. 

Give Schmidt Credit- Schmidt was rolling with some rather unique lineup combinations tonight including 12 minutes for LaDarrien Griffin, just two minutes for Nelson Kaputo, 11 for Ayeni, four for Ikpeze. Schmidt must have believed that Griffin and Andoh really need to be there tonight for us to win and did not feel he could trust Kaputo to spell Adams who played all 40 minutes. So much for using Nelson to rest Jay. Either way, I thought Griffin played pretty well (2 points, 2 blocks, 1 rebounds) out there and should get another look Thursday. Schmidt's line-up shake up worked tonight for sure. These combinations shot over 53% from the floor tonight. Give coach credit for that.

Join the Army- Army assisted on 20 of their 29 made shots vs. Bonas who had helpers on 13-29…10 of those coming from Adams. It was a joy to watch Army move the ball with so few dribbles and if Bonas can ever assist on 20+ field goals, you know you're in good shape. Rarely do teams loose who move the ball that well. Tonight not a single Bonnie had more than one assist save Adams. This is another area where the team can improve.

Gregg's Stepping Up- In a game like tonight: No students on campus, winter break has started, it's cold, dark, cloudy, the Hickey food is still not good…playing an "inferior" team, etc., the Bonnies needed to get a spark and some energy from their vets and senior Denzel Gregg provided it for them. Gregg finished with 20 points and 10 rebounds, four of which were offensive. He continues to give the team energy while attacking the glass and deserve a hand in tonight's win. While Adams will steal the headlines with his 30 and 10 night, Gregg did it all too from the forward spot. (I called in my pre game that Gregg would go for at least 17 and 10…BAM. 
Stats
In Game Thoughts
How about Army having 24 players on their roster? It would take Bonas five years to have 24, healthy bodies. Crazy. I think the NCAA limit should be 15 guys in practice each day. 24 is out of control. My high school soccer team had 20 kids on it. 

Army having "West Point" instead of last names on the back of their jerseys is just what you'd expect from them. Classy and unselfish. For them, it's all about the name on the front and back of the jersey.

Josh Ayeni taking three shots inside of three minutes was too much for Schmidt. He was bound for the bench with that third miss. 

Ikpeze committed a foul as soon as he got into the contest. His fouls per minute are staggering. If he wants to play more he's got to watch his foul trouble. Credit him for having a nice post-up bucket following that foul though.

After getting up 8-0 Bonas allowed four straight three pointers to Army…something we all knew would be an issue heading into the contest. This was a 12-0 run that would be a foreshadowing of what was to come. 

Griffin picked up what looked like a poor call on a block. He's been hurt by a lot of bad calls this season. Still, he played 12 solid minutes tonight and had some nice plays to help the club earn the W.

Army went big and Schmidt countered with Ikpeze-Gregg-Griffin-Adams-Mobley. 

I'm all for Christmas music (this week only)  but playing it during the timeouts? Not so much in a game that already lacks energy. Thankful this only happened once by my count.

Army played such good team basketball offensively. So little dribbling, tons of great cuts and passes, quick shots and ball movement. They'll knock of some good teams if they can get hot for 40 minutes. They really play unselfish hoops and move the ball as well as we've seen it this season. Just glad I could write this after a win. 

Bonas was really unable to stop penetration in the first half which led to all those three pointers. This would largely continue in the second half as well. 

Nelson Kaputo trying to go 1 on 4 via a fast break wasn't the best choice…Sometimes discretion is the better part of valor. He played just two minutes tonight as Schmidt opted to run Adams the full 40 once again. 

I wonder what Griffin did to earn all this playing time out of the blue? What did he get Mark Schmidt for Christmas? I'm all for it but I wonder what coach saw with the match-up tonight that he rolled with the sophomore for such a period of time. Any guesses? A nice Red Sox cap maybe? A Gronk or Chris Sale jersey?

Jay Adams scored the quietest 18 first half points you'll ever see. This is what greatness does though…it lulls you to sleep almost and you fail to notice it. He'd finish with those 31.

Stopping penetration was beyond poor tonight. Whether it was Jay Adams or other guards, SBU was getting beaten off the dribble badly. Additionally, SBU was doubling down on the post at times which led to open Army shooters. This I didn't really get given their lack of a big man presence. Schmidt didn't let this last for too long but when they went to the double it hurt.

David Andoh is best with less dribbling. Catch it a triple threat position and make a move big man. 

Schmidt tried a match-up zone and Army immediately canned a three pointer mid-way through the second half.

Andoh showed why Schmidt brought him here as a stretch four man with back to back threes just inside of ten minutes to take a lead from Army. His defense leaves something to be desired but you'll give it up to get that offense. He can really light it up quickly from all areas of the floor. 

I'll never get tired of watching Gregg swats shots. He's got the most violent blocks you'll ever see. A thing of beauty when he gets one off the backboard. 

Jay Adams perimeter defense tonight was a big issue. He was beaten off the bounce more times than I can remember by players who are not nearly as athletic as he is. He's got to be a bit more competitive on this end to become a more complete player.

Jay has officially taken over the closers role from Marcus Posley. He is just money inside the final media timeout. He can ice it at the line or from behind the arc with the best of them. That's what stud players do. 

Andoh's charge call drawn with 1:10 left was nice to see after his traveling on the other end. 

Overall, color me really impressed with Army West Point. This will be a much better team than their last place predicted finish.
Moment of the Game:  Jay Adams nifty up-and-under lay in with 1:38 left put the Bonnies up 85-75 after milking a bit of the shot clock and iced the game. This came a few possessions after Adams had drained a step-back three pointer to give SBU further cushion. Adams continues to make big plays at the end of tight games for Mark Schmidt's team.
Up Next: The Bonnies will wrap up their non-conference portion of the schedule on Thursday night against rival Canisius. The Golden Griffin's are 7-5 and have won four in a row and six of their last seven games. Their lone loss in the span came against Monmouth in a six point road loss. Junior Jermaine Crumpton will lead his club into the RC seeking a fifth straight win. After Thursday's game the Bonnies are off until the 30th when they travel to UMass to kick off conference play.
Photos courtesy of Steve Harrison Photograph. Check out his great work and amazing shots here.