Four Mile Brewing Post Game Report: UNCW 81 St. Bonaventure 80
Quickly: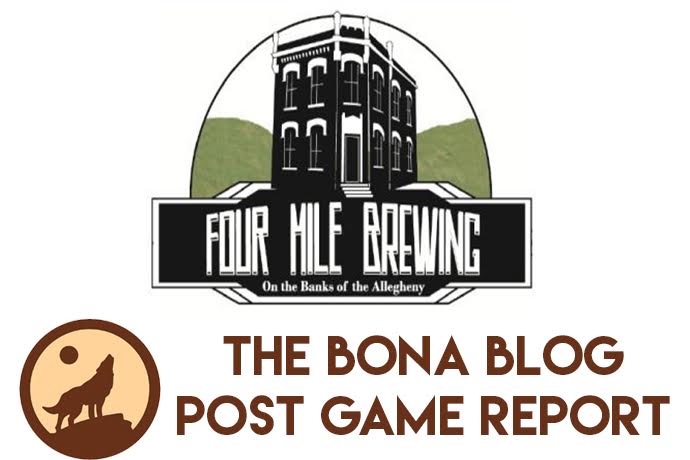 In what was dubbed as a "huge" game for the Bonnies in the non-conference portion of the schedule, the UNCW Seahawks came to Olean and took down the Bonnies in thrilling fashion 81-80 in front of raucous post-finals crowd of 3,976.
After the Bonnies struggled to sustain any run to catch up with the hot shooting Seahawks, Jay Adams finished off a traditional three point play to give the Bonnies their first lead of the second half with 22.4 second left to play. Adams and co. had the Reilly Center faithful believing they saw just another clutch moment in a potential all time Bonnie career to lift the Brown and White to another win. But ask those in attendance if they believed that lead was a lock, they'd be lying if they did. UNCW calmly worked their offensive set and found Denzel Ingram driving into the corner in front of the student section to hit a fading away, highly contested 17 footer to stun the Bonnies and the boisterous crowd. It lifted the Seahawks to 8-1 on the season and dropped the Bonnies to 6-3.
What was expected coming into the game were long, lanky guards, fast paced offense and relentless full court defense at times that all played into a perfect recipe for upset success. The Bonnies on the other hand seemed a tad surprised by the pace and pressure in limping out the gate early and held a small lead that they never got back until 22.4 seconds left in the game. 
In what was one of the more entertaining and thrilling games of the non-conference schedule, this contest proved that even when Adams and Mobley are not quite right, the Brown and White have a roster that is capable of backing up their dynamic duo. David Andoh came off the bench and chipped in a career high 15 points and Idris Taqqee and added some "dirty" buckets that helped keep the Bonnies within striking distance. Denzell Gregg had one of the most thunderous blocks that when you take into game situation, provided a dimension to the Bonnies that isn't always based on strictly how good the offense can be.
The Bonnies though could not seem to stop the Seahawks offense and for every shot the Bonnies hit, Flemmings, Ingram and Cacock always had an answer. To be fair, if a team is going to come in and score a giant road win, the ability to never let the home team sustain a run is a perfect method to stop the momentum. The Seahawks relied on timely turnovers, hot shooting and now seem to be on their way to making a run deep into March.
What's in store in the for the Bonnies? Well, in the short term they have a few days to shake off the loss and prep for finals before Niagara next weekend. But, the long term effects of the loss could possibly be leaving the Bonnies running through the A10 to the tune of 15-16 wins to even be considered for an at-large. But we all know how those things go, so let's not get too worried until after the A10 tournament in Pittsburgh.
For the GoBonnies.com recap, click here.
 5 Takeaways
UNCW is who were thought they were. They scored. They forced turnovers. They defended. They deserved to win. 

The Bonnies are still who we thought they were. They're still a work in progress. They have a never say die attitude and that was clearly on display tonight. Whenever the Bonnies hit from the floor it seemed UNCW simply answered in turn. With all that, the Bonnies took a lead and defended the last play as well as they could without fouling. They also deserved to win. This was a tough loss to stomach given our ability to battle back and Jay's lay-up and foul shot in the closing seconds.

Alums and fans are howling on twitter already that the "season is a mess." The sky is not falling. Losing Kaputo, Stockard and Obokoh hasn't deterred this scrappy bunch. Losing all-time greats in Posley and Wright didn't make the Bonnies chic at large candidates. If last season left us short, the goal this year was still to make noise come tourney time and that is still the goal.

Missed bunnies. The unofficial blog bunny counter was at 7. Just make half of the seven and we have a different outcome. It's not always sunny in Olean and tomorrow's practice better have some Miken drills to start the session (they're actually off to study for finals but the drill may be useful on Monday).

The crowd was on point throughout the night. Whether their team was down 7 after a made UNCW 3 pointer or just simply letting the officials "have it" the crowd never let up and I can't help but think it was a major factor in keeping the Bonnies in it to the bitter, and I mean extremely bitter end. Well done folks, the UNCW coach mentioned your work in the presser and on Twitter.
In Game Thoughts
Via KenPom, tonight's game was the 8th best match-up out of 126 match-ups nationwide.

Have to believe crowd with fake shot clock count forced bad 3 from UNCW at the 17 minute mark.

Bonnies forced into four early turnovers as UNCW thrives on forcing them often to a tune of over 17 per game, one of top teams nationally in doing so.

Missed 2 on 1 fast break from Gregg essentially is a turnover to a team that runs and guns. Taqqee on other hand makes it look easy at the 12 minute mark to show Bonnies handle adversity.

UNCW is very quick and long, their press causes awkward passes in back court, easy to see why they can force the game.

Ayeni settling for jump shots from 17 feet and hasn't recovered on defense twice. Schmidt benched him tonight because of his defensive misplays. 

7 minutes left in 1st and Bonnies have missed three layups, cannot expect to beat a team this good by giving away points.

Bonnies get into the bonus with almost a full 7 minutes left, huge to slow pace and score points without chance for transition.

Taqqee with three point play and crazy save underneath at end of half shows why he is so valuable to Schmidt.

Bonnies forcing shots, Adams air ball, Mobley contested 3 with 3 minutes to go, not showing calm and calculating offensive game fans accustomed to.

How deflating is it to have Andoh step back behind arc and bury a J. What a nice addition via transfer.

2nd HALF

Bonnies come out and turnover the ball and commit foul and let UNCW take crowd out of half early. SBU falls behind by ten and Schmidt needs a TO.

Denzell Gregg with two blocks in span of four seconds leads to transition bucket by Jay, hustle and heart.

Seahawks in the bonus at 14:29 left to play…not a good way to come from behind.

Mobley with steal and bucket and immediately answered by UNCW with three point play; theme of the night.

Andoh again hits 3 to cut to four and Bonnies can't get a stop and another answer by the Hawks.

10:42 left, Bonnies force the impossible: A shot clock violation!

Bonnies at the under 8 timeout down 71-65. Every time the Bonnies look to make a run, the Hawks extinguish any thought of a run.

Gregg misses layup, granted degree of difficulty was high, I count 7 missed bunnies.

Mobley hits corner 3 with some sizzle at 5:02 that starts mini 6-0 run that gets Bonnies to within 2 at 73-71.

UNCW hits a three right after Jay's to go back up 5. I've never seen a team come into the RC and ALWAYS HAVE AN ANSWER.

Andoh with career high of 15, all off the bench of course.

Block by Gregg with 1 minute to play get the ball back to Bonnies with a chance to take first lead since

Bonnies turnover the ball off inbound and UNCW gets chance to win game with ball in hand

Jay Adams drives, hits and is fouled to tie the game.

Adams hits the foul shot and Bonnies lead for first time since first half

Denzel Ingram hits game winner from corner, in 50 years of RC, probably a top ten walk off shot considering the circumstances.
Moment of the Game: After Jay Adams took the lid off the RC with his traditional 3 point play to give the Bonnies their first lead in over 30 minutes of game time, Denzel Ingram worked himself into the corner right in front of the student section and drained a fade away 17 footer with a hand in his face to hit the game winner with 1.9 left. 
Stats: 
Up Next: The Bonnies have a week off before heading to Buffalo to face Niagara at Key Bank Center in the Big 4 Classic in the early game. Niagara is currently 2-7 and ranked just 282nd on KenPom's site. 
Photos courtesy of Steve Harrison Photograph. Check out his great work and amazing shots here.