Recon: La Salle Explorers (3-4)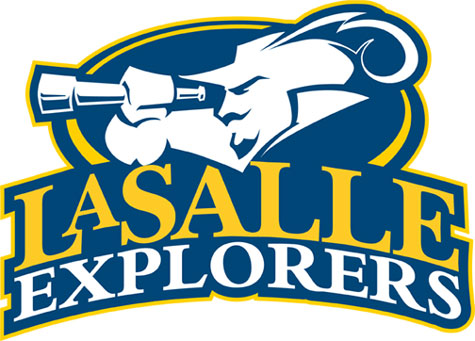 The Opponent:  The 11-9, 3-4 La Salle Explorers. La Salle was tabbed to finish 7th in the A10 preseason poll. Thus far, they have failed to live up to that prognostication. They are led by a pair of solid senior bigs in Jarrell Wright and Steve Zack and are solid defensively. Still, they've struggled to be anything other than average this season aside from beating GW at home by 13 points. KenPom ranks La Salle 111th and SBU 121st so on paper at least, these are two evenly matched teams. La Salle has alternated wins and losses for five games now and has not won back to back games since Dec. 23-30th against Hofstra and Penn. the match-up of their bigs vs. ours will be what to keep an eye on as you'll see four talented post players out there. Their record is a bit deceiving as they've faced some quality teams such as UVA, Vanderbilt, Temple and Villanova in the NC.
The Rundown on La Salle: Anchored by what should be one of the best front courts in the A10 La Salle has simply not lived up to expectations. They start a completely new back court from last season with transfers Cleon Roberts, Jordan Price and freshman Amar Stukes. This back court, while at times potent, has been widely inconsistent and ineffective. Price can go off on any night and is a big time scorer from Auburn.  We've all seen what Zack and Wright can do over their careers down low. La Salle's biggest issues are shooting the ball and turning it over a bit too often. Defensively though they are strong. Their interior is bulky and long with Wright and Zack and their guards' length often make perimeter players' lives difficult. They are a top 60 defense according to KenPom so scoring against them is much harder than stopping them (208th offensively). This should be a close game throughout as La Salle is probably as close to an even team talent/production wise to SBU as you'll find right now. Like our Bonnies they have the talent to beat a good team or two now and then, but also drop games vs. cupcakes like American (laughs and says they're no Delaware or UMES though).
Whose Gone: Basically everyone save Wright off their Sweet 16 team a few years ago. Remember- Tyreek Duren, Tyrone Garland (and his braids) and Sam Mills- a very solid backcourt? All gone as of last spring.
Foes' Starting Five:
Bigs: Jerrell Wright, Sr. 6-8/C- Steve Zack, Sr. 6-11
Quicks: Cleon Roberts, So. 6-5/Amar Stukes, Fr. 6-2/Jordan Price, So. 6-5
Vegas Says: Bonnies -3
Their best player(s): Going into the season it would certainly have been senior forward Jerrell Wright who seems to post a line of something like 12-8 every single season since the start of time. But, Auburn transfer Jordan Price has emerged as LSU's (I love when their students chant that nonsense) most important scorer this year. Price is averaging 15.8 points which is nice but like a lot of his teammates, he's taking way too many shots to score 15 a night. Price shoots 38% from the field, 32% from three and 83% from the line. Basically he takes a ton of shots and doesn't make a majority of them. Still, he can catch fire and lead them to victory like he did against GW when he scored 20 on 6-11 shooting. Coming into this game though the guard has been ice cold (FWIW). He scored six against SJU and four vs. URI shooting a combined 5-21 from the floor. Without Price's scoring and shooting to keep a defense honest, La Salle finds life more difficult (much like Posley and SBU). (Don't cite this as a jinx if/when he scores 24 on 9-14 shooting).
Their glaring weaknesses: They are a poor shooting team (276th nationally from 3PT, 245th from 2PT) and they give it away a bit too often (10.1 steals against a game/248th nationally). La Salle's guards are extremely poor shooters so Schmidt may show a 2-3 zone again like he did against URI minus E.C. Matthews- forcing them to make shots to beat us/change our defense. Stukes shoots 11% from three, Price 32% (mentioned above), Roberts 42%, D.J. Peterson 21% and Khalid Lewis 24%. So they depend a lot on Zack and Wright (48%, 42% FG) to score inside. If La Salle shoots as poorly as URI did this past weekend the Bonnies will have a great chance to win the game. Containing Roberts and Price will be key, if anyone else starts hitting shots it's just another one of those "RC games".
Their strength: As stated above they are a very solid defensive unit who makes scoring tough. Their interior is a pain in the ass because of their size and their guards have good length and are athletic. La Salle is 54th nationally in points against per game (61) and rank 80th in effective FG defense. In a sick twist of fate, their worst stat is that teams shoot an insane 73% from the line against them, making them the 321st most "unlucky" team in the nation in terms of foul shots against (let's hope to continue the trend). Mark Schmidt should actually be glad his team just played URI because it was a great warm-up for this contest. SBU can expect a similar type of pressure defense. Hopefully they've figured out a few more ways to free up Posley or have schemed against La Salle accordingly (see Dion Wright's second half against URI where Schmidt got him the ball at the top of the key and let him attack Martin off the bounce). I wouldn't expect a monster bounce back game from Posley given La Salle's ability to defend on the wings but hopefully I'm wrong. Posley seems to love shooting at home in the RC and maybe he catches fire like Klay Thompson on the Warriors the other night who dropped 37 in one quarter.
Reason to be Pessimistic: Listen La Salle is not a "lesser" team than SBU this season by any means (I said St. Joe's was and they are). These are two evenly matched clubs who could finished right next to one another come March. But, I'm still going to throw out the word "trap game" here. Why? Because we've had off an entire week to prep. That generally has not worked out well for the Bonnies in the recent past (see URI last year?/Siena this year). It's a home game and I think a lot of fans are saying, "It's ok we lost to URI, but we'll beat La Salle and then take our chances with Davidson and VCU…but we'll get La Salle at home." Well, don't count your eggs before they hatch folks….Or as Lee Corso would say, "Not so fast!" La Salle's defense could prove to be a real annoyance and these teams usually play each other tough…aside from us kicking their ass in Brooklyn last year. Point is this: The players need to realize the importance of this game given what lies ahead next week- two games we will be hard-pressed to win. Wright and Zack also worry me (they held GW's front line to 2 points) but I have faith in Ndoye and Dion to do their thing.
A Message to the Bonnies: Real men stay up…
Reason to be Optimistic: Because generally at home the Bonnies hold serve in A10 play against equal or lesser foes. Because coming off a loss (and a tough one) we should be hungry to get back to winning. Because La Salles' offensive struggles should at worst, keep us in the game late even if we play somewhat poorly. Because we showed this Sunday that we can play against a great defense and have a shot to win even when we turn it over too often. Posley can't possibly have two bad games in a row can he? The Bonnies really, really want this win before dealing with Davidson/VCU next week. No one wants to drop this game then face those two. Winning five of our first eight A10 games would put is in fine position should we drop the next two.
Fact: I'm 96% sure La Salle coach John Giannini is Schmidt's best friend in the league as far as coaches go. Dr. G challenged Schmidt to do the ALS Ice Bucket deal but when I asked Mark whether or not he did it he said no. So there's that. I'm sure Schmidt hates ALS just as much as anyone. Probably just didn't want to make a big deal out of it like most folks. Likely he just cut a fat check and put in the mail.