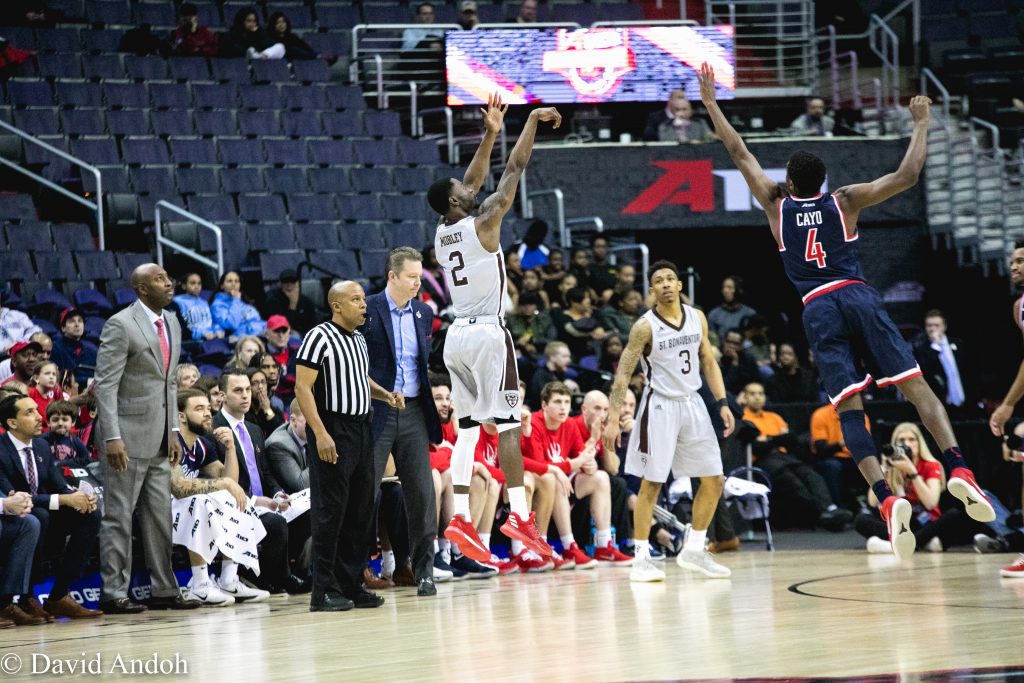 Dream Season Ends for Bonnies in Dallas
Clearly we're late to the party on this, but the Bonnies' dream season ended on Thursday night in Dallas, Texas as the 6th seed Florida Gators easily dispatched our Bonnies by a final score of 77-62. Florida moved on to face Texas Tech on Saturday but fell just short of upsetting the Red Raiders in front of thousdans of their fans who made the trip. 
If you're looking for some other great reading on the game go ahead and check out the Olean Times Herald's work below. By now nearly all of you have consumed various post games recaps of the loss so we're not going to provide a blow by blow of the game. Instead here's some links and below that we'll have some thoughts on the game. 
J.P. Butler has the game recap and thoughts from the Thursday night here
Chuck Pollock of the TH discusses the dream season's legacy here 
And J.P. Butler again writes about the season, Jay Adams journey since freshman year and puts the season into perspective here 
Finally, over at the Buffalo News Bucky Gleason writes about the Bonnies never to be forgotten journey to the NCAA's here
Being at the game on Thurday night was a fantastic experience as Bona fans from far and wide converged on Dallas at various bars and meet up spots before the game. SBU was well represented and the fans certainly did their part to cheer on the team from the stands in what was a game that essentially was over with 15 minutes left or so (if you're being realistic).
It was certainly not the result that anyone wanted, or certainly even saw coming, but that's sports…a season that deserved a dream ending in many ways, or at least for the team to go down swinging in heroic fashion, didn't get that ending. That's why as fans it's important to step back and see the big picture; view the season as whole body of work and not simply one game of 35 that didn't end well. Here are some quick thoughts from the loss on Thursday night to put a bow on a fantastic season for Bona Basketball.
Jay Adams Wasn't Right: You could tell from the opening minutes of the game that Adams was just not himself from a confidence standpoint. Jay passed up a wide open three early in the game (only to take a tougher one) and then picked up his third foul in the first half when he again passed up an open corner three to drive to the rim. Adams' offensive struggles at the end of the season have been documented all over the internet so we're not going to dive into them here, but obviously it was going to be really difficult/down right impossible, for SBU to down Florida with their all-everything play caller finishing the game 2-6 from the field, 0-3 from three with 11 points, four turnovers and two assists. As for those who said the last week of the season "killed" Adams NBA draft chances I can tell you I spoke with one scout who told me that no players' stock is going to change much based on a few games; Jay's value was likely already very set and if he is to increase/decrease that stock that will happen at pre draft camps. 
SBU was Gassed: Call it making excuses if you want, but there's no two ways about it: this team was absolutely gassed Thursday night. Their shots seemed to have no legs under them and Florida was a step faster all over the floor. SBU played games on Friday and Saturday of the previous week in D.C. before coming back to Olean only to be dispatched to Dayton Monday for a late night game vs. UCLA on Tuesday followed by a 2 AM flight to Dallas, a 5:30 AM arrival before facing the Gators on Thurday night…A Florida team who had not played since the night Bona faced Richmond, giving them six days off. That's an NBA type schedule and SBU had the deck stacked against them heading to Dallas; there's no doubt about it. We can get into whether or not they should have even been in Dayton, whether or not the committee favored Syracuse (who had an extra day off) and all that but the bottom line is between the travel, and the fact that Mark Schmidt only plays eight guys a game, this team was exhausted in Dallas. 
Credit Florida's Defense: Listen, Adams and Mobley may have had "off" games and the travel and certainly didn't help, but Florida played really well and defensively they put a lock on Adams and Mobley who combined to score just 21 points on 1-12 shooting from deep and 11 turnovers against three assists. Florida's half court defense was incredibly tough on Bona, forcing the guards into tough shots, or no shots at all on numerous possessions. They controlled the interior holding Bona to 48% shooting inside and holding Ikpeze to three points and four boards and LaDarien Griffin to nine points and four boards. Florida held Bona to 3-19 shooting from deep (15%) in a game where beforehand my brother and I said we thought Bona needed to make around ten threes to win it. Offensively, the Gators made 10 of 32 threes, shot 52% inside and only turned it over nine times. They were the better team, travel issues included or not. Bonas 62 points were their fewest since the win at Syracuse and the margin of victory was the biggest of the season. 
Idris Taqqee Balled Out: In a game filled with disappointment, the forgotten senior played another great game as he pulled down 13 rebounds to go with four points, two blocks and two steals. Taqqee was all over the floor against bigger players and in his final game as a Bonnie and displayed all the traits that made him a starter and captain these last few seasons. Taqqee collected 30 rebounds in Bona's last three games when all was said and done. The senior's quality defense, knack for grabbing key rebounds and loose balls and making winning plays will be missed next year and beyond. The sight of Idris crying after coming off the floor tells you everything you need to know about how much he cared about this team. 
Fans Were Great: As always, the Bonnie fans who made the trip were tremendous. I don't know that anyone left before the final horn sounded and the collection of fans in sections 107 and 108 stayed to chant loud and proud for the team and the seniors who gave them so much to cheer about. In a game that was really hard to watch for fans they stayed until the bitter end. 
As I said to a number of folks following the game was we tried to make sense of the loss: If I had told you on the eve of November 10th (or better yet right after the Niagara loss) that this team would…
Win a program record 26 games (6 of which without Jay Adams)

Beat Maryland, Syracuse, Buffalo, Vermont, Rhode Island, VCU and Davidson

Win 14 conference games in a row

Jay Adams would go for 40 on back to back nights at some point

Beat a conference foe in a must win game in triple overtime 117-113

Finish 2nd in the conference behind URI

Have an RPI of essentially 20

Make the NCAA's, have to travel to Dayton for a play in: But you get one of the biggest names in college hoops and you beat them..
Something tells me you'd have said yes. 
Before we move forward to all the spring and summer content that will surely revolve around transfers and incoming players we will have a few more posts here soon. One of which will center on the questions facing the program such as Mark Schmidt's future, Jay Adams' NBA chances, Josh Ayeni's injury and Courtney Stockard's decision to return to SBU or to move on.