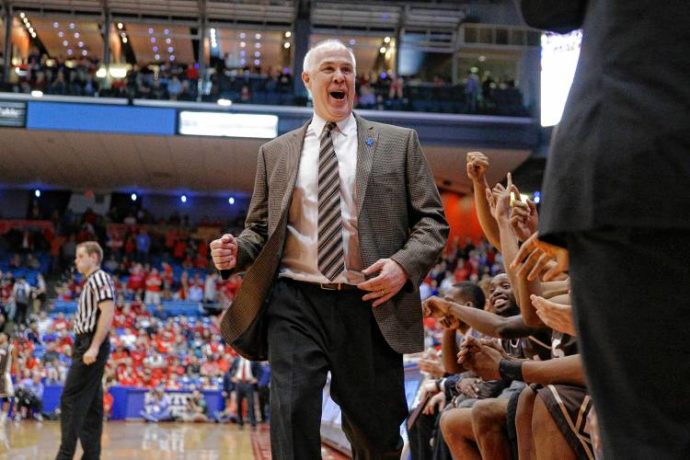 Report: Pittsburgh Eyeing Mark Schmidt for Coaching Opening
According to Adam Zagoria, St. Bonaventure head coach Mark Schmidt interviewed for the University of Pittsburgh head coaching job yesterday and the school is eyeing the Bonnies coach to take over their program which is in crisis mode.
Schmidt, as we all know, is a hot coaching name right now after guiding the Bonnies to a record season including an NCAA at large bid as well as a program record 26 wins. Schmidt has been the Bonnies head coach since the 2007-2008 season and has on his resume an A10 Tournament title, a share of the A10 regular season title as well as two NCAA bids and three consecutive 20+ win seasons. No stranger to turning around a program, Schmidt took over a Bonaventure team that won just 24 games total in the four years before his hiring include one 2 win season. 
Pittsburgh fired head coach Kevin Stallings after he finished 8-24 this season without a single ACC victory. Stallings finished 16-17 last year after taking over for Jamie Dixon who was let go after a great run at the then Big East school. Stallings is still owed 9.4 million dollars on his contract and already nine Pitt players have asked for their release. To say that the Pitt job will require an epic rebuild would an understatement in the ACC. 
Pittsburgh had previously offered the head coaching job to then URI head coach Dan Hurley who reportedly turned down a 3.1 million dollar annual salary, opting to go to UConn instead. Sean Miller remains a candidate after his eventful month involved with FBI.
Schmidt makes close to around 850K (last numbers we have heard). His wife Anita's family is in Pittsburgh and Schmidt has close ties to the city after coaching at Robert Morris for six seasons. When the off season started many Bonnie fans wondered if Schmidt would finally leave SBU and take a power five job and this one in particular has always made a lot of sense given his family ties to the city. 
The Bonnies will lose seniors Matt Mobley and Jay Adams and very well could lose red shirt senior Courtney Stockard who could opt to play professionally or transfer. They have a verbal from just one incoming freshman thus far in point guard Kyle Lofton. 
We will keep you updated on anything we hear in terms of Schmidt's chances at Pitt.