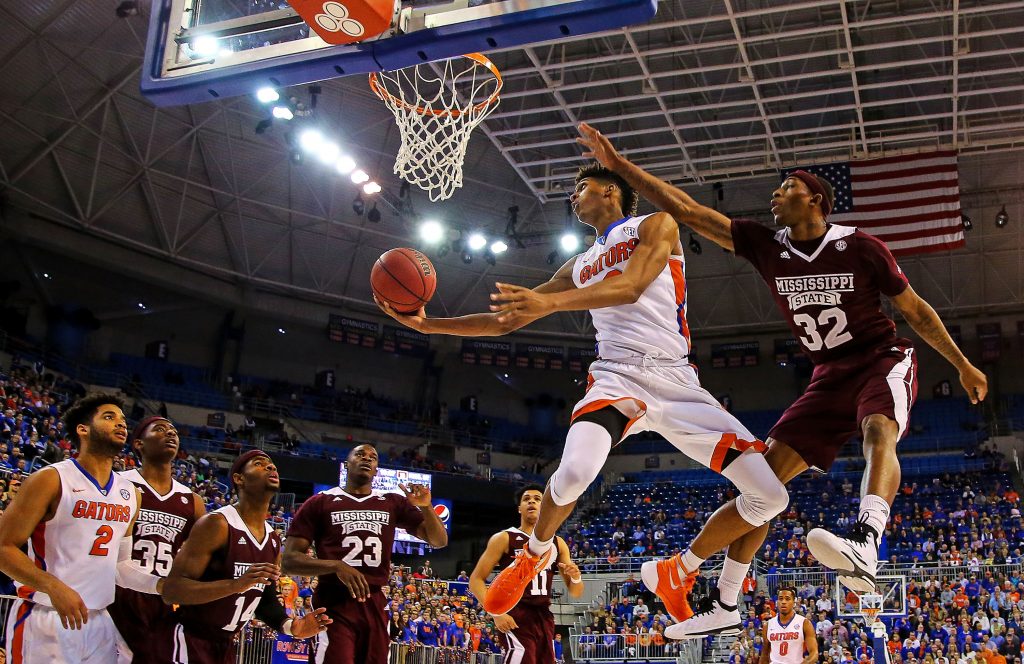 Preview: #6 Florida Gators (Thursday, 9:57 PM, Dallas, TX)
After downing UCLA in dramatic fashion on Tuesday night in Dayton, the Bonnies hopped on a jet around 2 AM and made way for Dallas. There, the Bonnies will take on the 6th seed Florida Gators (20-12) out of the SEC in the East Region.
The Bonnies earned a trip down south after winning their first NCAA Tournament game in 48 years.
The Gators won three such games last season before falling to South Carolina with a trip to the Final Four on the line under head coach Michael White. Florida has been ranked as high as 5th this year in the AP Poll. 
The Gators played the 13th toughest schedule in the country, start three juniors and two seniors, play mostly man to man defense and have top 50 wins (via KenPom) against Gonzaga (7), Cincinnati (4), Texas A&M (30), Missouri (39), Arkansas (36), Kentucky twice (18), Baylor (33) and Auburn (16). For comparison, the Bonnies have beaten two such clubs this season in Maryland and Rhode Island.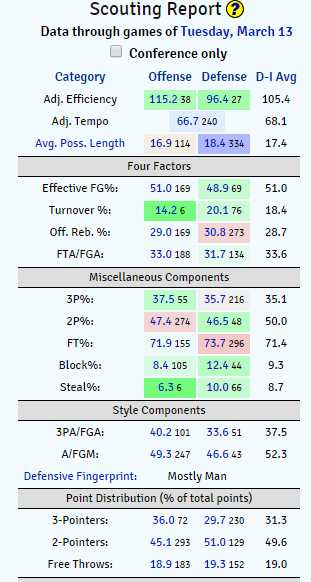 So yes, they've played a "Murders' Row" type of schedule and did well in beating some really, really good teams. They're battle tested, used to big games and start a group of seniors and juniors that have won a lot of games together. 
Florida finished third in the SEC during the regular season behind only Tennessee and Auburn but lost to Arkansas in their SEC Tournament opener in St. Louis.  
Florida is ranked #23 on KenPom and sports an impressive offense (38) and an even more impressive defense (27). The Gators make their mark offensively by valuing the basketball as the rank 6th in the country in turnover percentage offense (Remember the Bonnies forced 20 turnovers against UCLA) and are 55th nationally in 3PT shooting (at a very solid, but not fantastic 37.5%).
The Gators have four players who can stretch the floor in terms of shooting the ball (35% or better from deep) in Jalen Hudson, Chris Chiozza, Egor Koulechov and Keith Stone. Inside the three point line they struggle (quite similarly to St. Bonaventure) as they rank just 274th in two point shooting. 
Defensively, Florida ranked 5th in the SEC in effective FG% defense, 2nd in 2PT defense, 11th in 3PT%, and 13% in offensive rebounding percentage. 
If Florida has any weaknesses, and they really don't have any big ones, it would likely be defensive rebounding. U of F ranked 12th in the 14 team SEC in defensive rebounds per game and 8th in offensive rebound per; so hitting the glass isn't their strongest facet of play.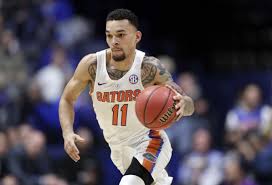 Their best player offensively is likely junior guard Chris Chiozza who was voted All SEC 1st Team and All SEC Defensive Team. Despite being 31st in the conference in scoring and 4th on his own team, Chiozza ranked 1st in the SEC in assists with 194 and 6.1 per game. Chiozza posted a ridiculous 3.2/1 A/TO ratio running the Gator offense and their solid ability to hold onto the ball (6th in NCAA) starts with the junior. Chiozza was held under 10 points in each of the Gator's final three regular season games before scoring 16 points in their loss to Arkansas. Chiozza isn't a big time scorer or shooter from deep (just 37 made three points on 35% shooting) but clearly picks his spots and is a pass-first lead guard. 
Below are individual stats. As you can see, the Gators have essentially five players averaging nine points a game or more and play ten to 11 players on a normal night; they're deep.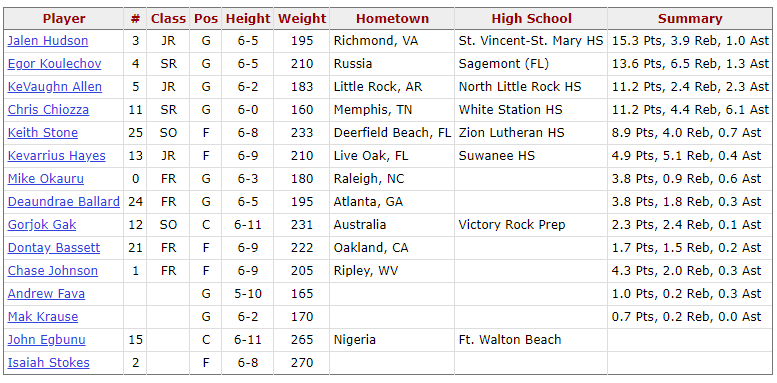 For the Bonnies to punch their ticket to Saturday and into the field of 32 they'll likely need to the following…
Defend again at a high level (Florida scores 76.1 per game which ranks 102nd), especially the three point line where the Gators have four capable shooters who can space the floor. Whether or not Schmidt wants to employ that 1-3-1 match-up zone again or go back to the man to man pack line defense will depend on what the coaching staff sees on film. 
Get more out of Jay Adams and Matt Mobley offensively who went a combined 6-28 from the floor vs. UCLA. While Courtney Stockard bailed the team out offensively once, it's a lot to ask him to do it again. If the Bonnies are going to cause some noise here in Texas Adams and Mobley have to be at the forefront. 
Force Florida into missed shots. Why (aside from the obvious)? Because they will not turn it over like UCLA did) with their top turnover rate. Florida will value the ball and get shots off. Bona needs to make sure those shots are misses because they likely won't have extra possessions like they did on Tuesday. Limiting Florida to one and done trips down the floor will also keep a thin Bona team playing their fourth game in six days a bit more fresh; long defensive possesions can wear a team down. 
Hang in there early. Bona did not get off to the hottest start offensively in Dayton but they hung in the game because of their exceptional defense then let the crowd get behind them down the stretch and made enough plays to win. The same recipe could work in Dallas. Gainsville is a long way from Texas and there's every chance the Dallas fans will cheer on the Bonnies if this game is close inside of the final 5 minutes. There, SBU can rely on their star guards to make plays, and foul shots late to try and close out an upset victory over the SEC power.