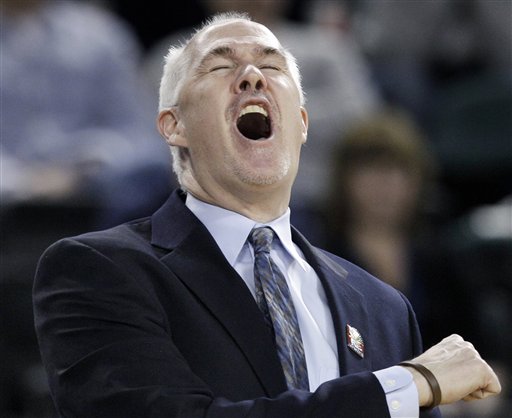 Bonnies shouldn't break bank to keep Schmidt
By Vinny Pezzimenti
Mark Schmidt is a very good basketball coach and St. Bonaventure is lucky to have him. He led the Bonnies from the depths of the post scandal years, guided them to an Atlantic 10 title, and had them on the doorstep of an NCAA tournament berth this season – all while working within the limitations of the smallest budget in the conference.
Along the way, he has been paid fairly well. Schmidt has been said to make upwards of $650,000 a year. If true, that kind of money goes a long way in Olean, N.Y. – even if it isn't a lot for a successful coach in a conference like the Atlantic 10.
As you've probably noticed, other schools have taken note of Schmidt's success with the Bonnies. Central Florida interviewed him for its job before hiring Johnny Dawkins. Tha A-10 Coach of the Year has also been rumored as a candidate for the Pitt job, and for the Cincinnati position if it opens.
Those schools can give Schmidt more money, more resources to maintain a winner, and many more opportunities to make and advance in the NCAA tournament. No amount of money SBU can offer will keep Schmidt from leaving for Pitt or Cincinnati – two cities for which he has strong ties. He will go if the situation is right.
"Money is not everything," Schmidt told the Buffalo News earlier this month. "At the same time, everybody wants to feel like they're appreciated. Bonaventure has done that, to a point. I'm not looking to go anywhere, per se."
Tim Kenney, as reported by The Intrepid, is working to keep Schmidt and his family happy at St. Bonaventure. That presumably means more money and perks.
But is money really the motivation? If Schmidt is indeed living on $650,000 annually in Olean, a cost of living calculator will tell you that compensation is comprable to earning more than a million dollars in New York City, Washington, D.C. and Boston, and close to a million in Philadelphia. That would put Schmidt on par with others in the A-10 (Dayton's Archie Miller made $652K and Davidson's Bob McKillop $381K during the 2014-15 season, according to this USA Today database.)
The university obviously wants to retain Schmidt, but St. Bonaventure can only pay its most high profile employee so much. When Schmidt was given a deal worth more than $300,000 a year in 2007, it concerned more than a few faculty members. He made $328K in 2012 when the Bonnies won the Atlantic 10. He has been awarded two raises and extensions since.
This may not be a popular sentiment, but St. Bonaventure should not break the bank to keep Schmidt. It's not worth it, especially as the university faces shrinking enrollment figures and money concerns. Many of the school's athletics programs – the men's and women's basketball teams notably – annually disprove the notion that more spending equals more victories.
The Bonnies should have another strong season next year. More success will only ratchet up interest in Schmidt. If he isn't content with his salary or available resources at SBU, it is on Kenney to find the next Schmidt at a reduced rate.