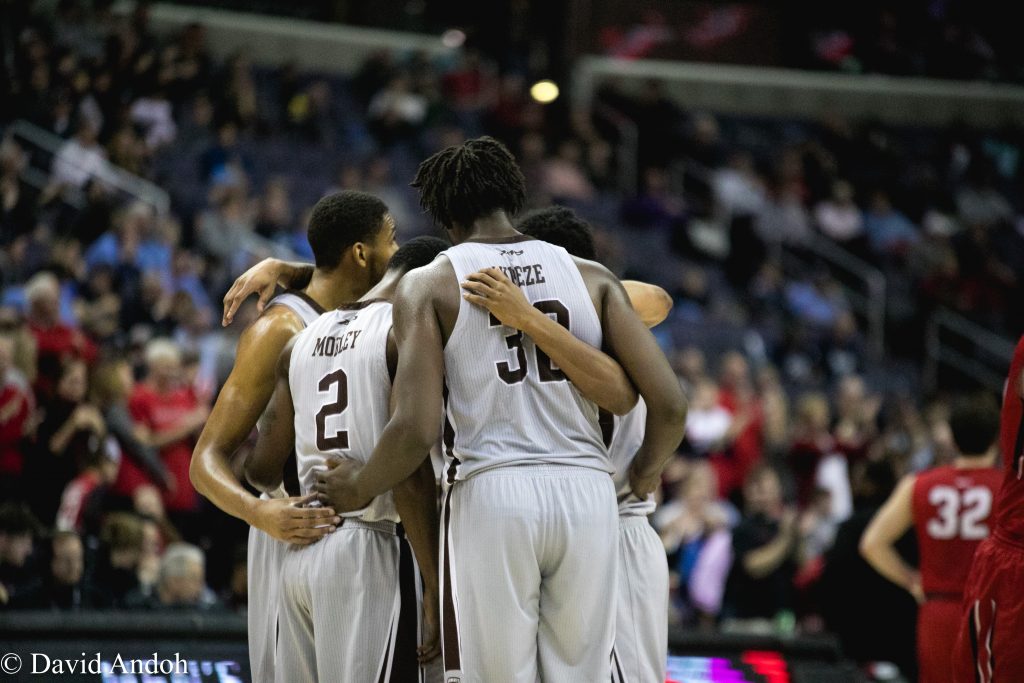 They're In: Bonnies 11 Seed, Face UCLA on Tuesday Night in Dayton
On Sunday evening the St. Bonaventure Bonnies long wait to return to the NCAA field finally came to an end.
For the team's full press release see below. Continue reading in this space above the cut for our thoughts. For a link to this year's bracket click here
The Bonnies find themselves in the field of 68 for the first time since 2012, but have been sent by the NCAA selection committee to Dayton as part of the "First Four" because Bona was one of the final four at large teams "in" the field.
A pretty stunning development when you consider their resume.
While every fan was thrilled to see the Bonnies name on the screen during the opening moments of the show, it was certainly disappointing to see them dispatched to Dayton as an 11 seed. Bonaventure was seeded 10th by Bracketmatrix.com today, and a number of the most accurate websites on the internet had the Bonnies as a nine seed.
Ultimately, it probably shouldn't be all that shocking that the committee thought less of the Bonnies' resume than those fine folks on the internet. Most fans had long worried the committee would "screw" them again, and while the Bonnies were not left out of the field this time around they certainly were not given any benefit of the doubt either. Bonaventure was seeded below teams like San Diego State, Loyola Chicago, Texas and Oklahoma, most notably. I would lose my mind at the idea that the team is playing in Dayton as an 11 and not somewhere else on Thursday afternoon as a ten seed but I just can't bring myself to do that right now…maybe tomorrow (or go read Vinny's article).
But, seeing Bona sent to Dayton means a few things.
First, it means that Bona likely needed to win every single game they did this season to get in. Most of us thought that going into Friday night's game vs. Richmond that a win would "seal the deal", and while that may have been the case, it may have also been true that if Bonaventure lost that game they'd be outside looking in today. Crazy to think about as SBU nearly blew a 17 point lead to the Spiders.
Mark Schmidt's "game seven" comment rang true towards the end of the season and for good reason: it really was a do or die night every time the Bonnies took the floor following their loss at Davidson on January 19th. The committee proved that placing his team in Dayton and naming them one of the last three in the field of 68.
It's incredible to think that even with Bona's progam tying record 25 wins, 24 RPI, 9 wins vs. Quad 1 and 2 teams and second place finish in the A10 that SBU could have found themselves "out" tonight. That speaks to what the committee likely thought of the Atlantic 10 conference this season. If this is what it takes to become simply one of the last teams in the field, it should provide you with a whole new perspective of how hard it is to gain an at large bid in this conference (at least in a down year).  
Second, the committee sent a message tonight that the following things are true: it doesn't matter how you finish and power five teams will be included over quality mid majors, so long as they have a few marquee wins in their belt. Oklahoma, a 10 seed, is the best case of both of these points as they finished the season with just two wins in their last ten games, finished second to last in the Big 12 and were 8-10 in league play.
The committee said over and over they don't look at how a team finished the season and you have to believe them now.
The Bonnies won all but one of their final 14 games and got sent to Dayton and Oklahoma crawled to the finished and got a 10 seed.
Why?
Likely because of their work well before February when the Sooners beat such teams as TCU, USC, Wichita State, Texas Tech, TCU (again), Kanas, and Baylor. Like it or not, if the committee really decides to just look at a body of work overall the Sooners 18 wins are loaded with good ones.
Is it fair? Should a power five team that finishes under .500 be allowed in the NCAA field? That's up for debate.
What isn't is that the committee told us that they'd value body of work, not how a team finished and put a emphasis on winning games vs. top Quadrant schools and Oklahoma went 9-12 vs. such teams.
Finally, it showed (maybe) that RPI isn't as important as folks think since Oklahoma has an RPI of 49…hardly impressive. Their poor RPI didn't keep them out of the field.
Who was left out? Notre Dame, Middle Tennessee State, Saint Mary's. 
When Davidson knocked of the Bonnies and then Rhode Island on Sunday Notre Dame went from the last time in to the first team out according to the committee chairman. 
Who was the last team in the field? 
None other than fellow 11 seed Syracuse….you have to laugh at that; because if you don't you'll cry. We won't write about Syracuse in this space because right now the Bonnies need to be worried about facing UCLA out of the Pac 12.
The Bruins finished the season 21-11 and were one of the last four in as well (why they're in Dayton)….Steve Alford's team is an offensive power (23rd in efficiency, 42nd in 3PT shooting, 38th in TO% and are the 5th tallest team in America). UCLA has a ton of talent, which is no surprise, and have several big name wins to their name this season: Wisconsin, Kentucky, Utah, USC, Arizona, Oregon and Stanford. UCLA has played five overtime games this season and went to the Sweet 16 last year behind a kid name Lonzo Ball.
We will have more on the Bruins before tip on Tuesday night in Dayton. 
To close, since we just mentioned Dayton…UD Arena will likely be very "pro" Bona on Tuesday night as the Flyer faithful will come out to support their fellow A10 school. We've already been getting tons of Twitter messages from those fine folks at UD…their message: We got you.
Go Bonnies! 
————————————————————————————————————-
Reaching the NCAA Tournament seemed like a realistic goal for the St. Bonaventure men's basketball team this season. Sunday, that dream came true.
The Bonnies earned an at-large bid to the Tournament and is an 11 seed. St. Bonaventure will play UCLA in the First Four on Tuesday, March 13, at UD Arena in Dayton, Ohio. The game is scheduled for a 9:10 ET tipoff and will air on truTV.
The winner will advance to face 6th-seeded Florida on Thursday in Dallas.
St. Bonaventure, which is 25-7 on the season, will make the seventh NCAA Tournament appearance in the program's history and second under coach Mark Schmidt. The Bonnies' last NCAA berth was in 2012, when they won the Atlantic 10 Conference Championship to earn an automatic berth. The last time St. Bonaventure received an at-large NCAA bid was 2000.
St. Bonaventure's remarkable 2017-18 season has been highlighted by its 25 wins, which tied the school record set by the 1969-70 Final Four team. The Bonnies finished second in the Atlantic 10 with a mark of 14-4, tying the school record for conference wins. Twice during the season, the Bonnies had win streaks of eight games or more, most recently a 13-game winning streak that was snapped on Saturday in the A-10 Tournament semifinals. Each of the past two weeks, the Bonnies received votes in the national polls.
St. Bonaventure has nine wins in the first two quadrants in the NCAA's new evaluation system with records of 3-3 in Quadrant One and 6-1 in Quadrant Two.
The Bonnies are led by Schmidt, now in his 11th season. He has helped the program to three consecutive 20-win seasons.
St. Bonaventure is also fueled by its All-Conference backcourt of seniors Jaylen Adams and Matt Mobley, who combine to average 38 points per game. Both were named to the first team All-Conference this season with Adams sharing the Atlantic 10 Player of the Year honors with Davidson's Peyton Aldridge. An All-America candidate, Adams averages 19.8 points and five assists per game while shooting 45 percent from three-point range. Mobley averages 18.5 points per game and has set a school record with his 102 three-pointers.
UCLA is 21-11. The Bruins lost to Arizona in overtime in the semifinals of the Pac-12 tournament last weekend.
Swingman Idris Taqqee (5.4 ppg) is the third senior in the starting lineup; he leads the Bonnies' improved defense. Junior forwards Courtney Stockard (12.9 points, 6.4 rebounds) and LaDarien Griffin (8.7 points, 6.5 rebounds) anchor the front line along with sophomore center Amadi Ikpeze (4.7 points, 3.1 rebounds).
Ticket Information: St. Bonaventure will not have tickets for sale to the general public. Fans should contact the host arena or visit secondary ticketing web sites.
For a one-stop NCAA Tournament information guide for Bonnies fans, visit: GoBonnies.com/BonniesDance.