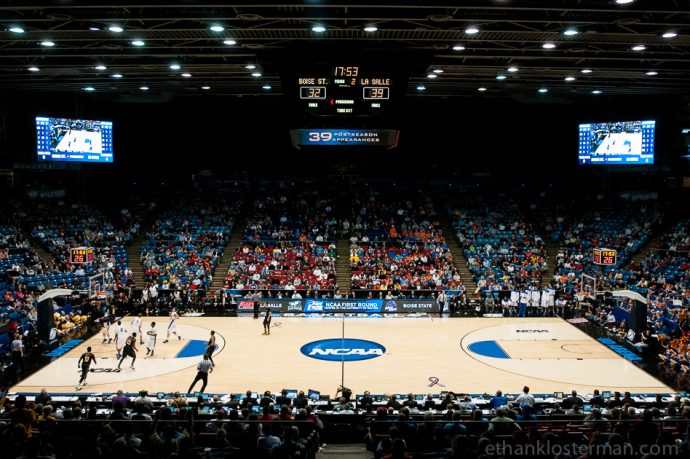 Vaccaro: Selection Sunday Anything But a Day of Rest
            I have to be honest with you, folks: I'm going to be all over the map with this one. I think you'll understand, because I think your last 36 or so hours have probably been much like mine, unable to concentrate on much, unable to think abut much, unable to conduct more than a 30-second conversation about any topic other than the only ones that mattered ….
            Are we in?
            Are we out?
            Will we be going to Dayton?
            Those bastard Orange aren't getting in, are they?
             Yeah. You know what I mean. It's why we've gotten along so well these past few months because we all – every one of us – see the world, at least the college basketball world, through the same prism: this stuff matters to us, maybe too much sometimes, maybe to the point of distraction sometimes, maybe to the point that we have to seek each other out because nobody else wants to hear another screed about the burden of the college basketball working class, AKA the mid-major.
            Meanwhile, we can't talk about that enough.
            And so here we are. And here we go.
PART I: The Wait.
            The first phone call arrived at straight-up 9 o'clock Sunday morning. The second came five minutes later. Soon, apparently, I was mumbling to myself, and obsessively refreshing my IPad with one hand and my Iphone with the other, looking for information, wondering why Jerry Bleeping Palm and Joe Bleeping Lunardi weren't live-tweeting their days, anxious for new fake brackets, terrified of what they might show when they arrived. Fifteen minutes later, another call. And another.
            The Airedale terrier, Desmond, looked at me with puzzlement.
            The West Highland terrier, Fiona, looked at me with contempt
            The wife, Leigh, asked, "What time does this happen?"
            "Six o'clock," I muttered, toggling between bracketmatrix.com and realtimerpi.com and Gleason's column in the Buffalo News, the one that swore the Bonnies were in the Tournament, no worries, no fears, go have yourself a fun day and keep the Maalox in the cabinet, and …
            "Get out," she said.
            "Excuse me?"
            "I can't watch this for nine hours. You have to get out of here."
            I tried to look wounded, but I'm a terrible liar.
            "You want to be there. You know it. I know it. So just go. It'll kill five hours of the day. And it'll keep me from killing you."
            Thirty minutes later, I was on 17 North with a full tank of gas, 333 miles separating me from the Reilly Center. It was a lunatic's journey, of course. But, then: who's better qualified for that?
            Here's the truth: I couldn't go through a Selection Sunday like the one I endured in 2016. My newspaper assigned me to the Iona College watch party, and I arrived early, shook hands with the Gaels' coach, Tim Cluess, who asked me, "Where do you think your boys are gonna be seeded? Nine? Ten?"
            "They can go to Dayton for all I care," I said. "Just get in."
            "Hell no," Cluess said. "That would be a travesty."
            Well … you can guess how the next hour or so went. That was the year someone leaked the brackets early, remember? So before the horrifying reality became official on the huge TVs mounted in the Mulcahy Center, I'd already received the sickening news. The lights came on, the Iona fans were falling over themselves with delight, trying to figure out how they could get to Denver, and I felt like I wanted to throw up. Before I could, Cluess put his hand on my shoulder.
            "You guys," he said, "just got jobbed."
            He didn't use the word "jobbed."
            No, this time I had to be among my people. I had to be among familiar faces. I had to make that damned drive, which I'd sworn off years ago, figuring if it wasn't an important enough campus event for me to fly to it, it wasn't worth going at all. I passed all the familiar markers, the ones all of us who've ever made that drive from Jersey/Long Island/Connecticut/Rockland have made: the first signs for Binghamton. The speed traps near Corning. The Tioga Racetrack. And one of the most heartbreaking signs in the history of highways, after it feels like you've been in the car for a week and you're finally home free, and there it is, slapping you in the face:
                        HORNELL: 20
                        OLEAN:  67
                        JAMESTOWN: 117
 SIXTY-SEVEN MILES TO GO!?
And then I was there, at the Reilly Center. I was inside. I walked in the gym, still empty, and there were two people there: Jaylen Adams, doing some kind of shooting drill while sitting in a folding chair, and a student manager retrieving his rebounds. There were still two hours to kill. I sought out old friends. I had work to do, and I did it. I watched some golf on my phone, to see if an emerging mid-major named Tiger Woods could perform some magic. I saw Tim Kenney, the AD.
"You see the latest Lunardi?" he asked.
I had. "Dayton," I said.
He shrugged his shoulders. It's funny; he went to school at UB. He's worked at some of the behemoth schools: Florida State, UMass. This really could just be a job for him. I once bought my wife one of those "I Married Into This" sweatshirts from the bookstore; Kenney could be forgiven if he had one custom made that said, "I Was Hired Into This." But it really is more than that for him.
"When we get in," he said. "I'm gonna bawl like a baby."
"He will, too," his wife, Mo, said.
Fifteen minutes to go. Someone asked me if I wanted to take a swing by the Hall of Fame room to meet Dr. Dennis DePerro, the new University president. He's another one who didn't go to school here (though he always dreamed of doing so, Canisius was just smart enough to offer him the greater scholarship). He was also nervous as a cat. The team was already gathered, eating a feast before the Selection Show. Mark Schmidt covered his plate with salad greens.
"Who am I kidding?" he asked, laughing. "I haven't been hungry all day."
Downstairs, quite a nice crowd had gathered for the RC watch party. In this room, the restlessness was everywhere. The players gathered round a TV. The coaches stood behind them. The automatic bids crawled slowly across the screen, and by now it was excruciating. Then the at-larges came, and the running commentary in the room was telling.
"Arizona State! Damn!"
"Hey … no Baylor."
"No Louisville!"
As the alphabetical list passed from "M" to "N," Ernie Johnson, on TV, actually posed the question if Notre Dame was getting a bid, something every bubble resident and bubble neighbor had been asking themselves for days. Then Johnson answered his own question: "No!" The news was greeted with a zen silence among the folks in the Hall of Fame Room; you would imagine food (among other things) was thrown at the television at whatever similar room they were using on campus in South Bend, Ind., at that moment.
Oklahoma was in. Oklahoma State was not.
And then came the "S"s.
And first up was Seton Hall. And this caused a moment of unrelenting tension in a room of people wanting to ask, needing to know: Are we officially SAINT Bonaventure – in which case the worse news possible had just arrived. Or are we ST. Bonaventure, in which case th—
"AAAUUUGGHHHHHHHHUUUGGGHHHHAAHHHHHHHH!!!"
And there was the answer. There was the Bona logo.
In.
And, really, there is no description I can give to deliver proper justice to what the next five minutes were like in the Hall of Fame room. And you really don't need the adjectives. You know. You know what you were feeling; multiply that by 10 for Adams and Idris Taqqee, who'd left this room two years ago feeling equal parts ill and vandalized. Multiply it by 20 for Schmidt, who'd somehow talked these players into believing that they really could make things right this time, coaxing and cajoling them all along that 13-game winning streak, all the way to Saturday night in Washington, D.C., all the way to this moment in the Hall of Fame room.
In.
"Amazing," Schmidt said, and as he said it he didn't bother to hide the tears that were slithering from the corners of both eyes. Suddenly he turned and there was Kenney, and just as he'd promised he'd been bawling for a good minute.
The two men hugged.
"You did it," Kenney said.
"We did it," Schmidt said.
"We did it!" you shrieked, or screamed, or bawled, or croaked, wherever you were standing, wherever you were sitting, wherever you were watching.
We did it. Damn right. Say it again.
We did it.
PART II: Dayton? Really?
Not to be a buzzkill but … well, hell, the NCAA already killed that buzz, didn't it? In fact, even as the Bonnies sprinted from the Hall of Fame room to the floor of the RC, even as they were being saluted and feted by the gathered students and citizens, their immediate fate was already quietly being revealed on TV: Joe Lunardi was right. They were one of the last four in. That meant a playoff game. That meant Dayton.
            That meant – holy [cow] – UCLA.
            And you know what it really meant? It meant that those who were funneling Maalox the prior 36 hours weren't just doing so out of paranoia. It meant that those who were following the Davidson-Rhode Island A-10 title game Sunday afternoon and felt an awful queasiness when Davidson won and stole "somebody's" bubble bid weren't exaggerating the source of their stomach pains one bit. It meant that it's a good thing these brackets weren't announced a couple of hours later, because if a team can go from a consensus 9 seed in 90 percent of the mock brackets Saturday morning to the third-to-the-last team in the field by Sunday night, it is clearly being swept away by a terrible tornado of trouble.
You lived in fear all weekend?
Well, the unspoken message delivered was this: you should have been. And the one sent by the selection committee was even starker: You don't like going to Dayton?
Would you rather be Saint Mary's?
Or Middle Tennessee State?
So no, let's not pretend this doesn't bother us because it does: by every reasonable metric, by every reasonable standard, the Bonnies are a team that should be a 10 seed, that should have been allowed to bypass Dayton, that should have been afforded a few days to savor only the seventh NCAA Tournament appearance in school history.
Hell, just look at the 10 seeds: Oklahoma (4-11 in their final 15 games) and Texas, Providence and Butler. Look at the 11 seeds who were spared the play-in game: Loyola-Chicago (good for you, former Bona AD Steve Watson) and San Diego State. Look at their resumes. Look at their metrics. And, for kicks, use the eye test. That's the group this team belongs with, at worst.
You know that.
I know that.
But here's the thing: sometime between now and 9 o'clock Tuesday night, whatever disappointment you might feel is going to fade away. Because here's something that none of us were willing to say these past few days for fear of initiating a terrible karmic imbalance wherever such celestial justice is practiced: for this program, receiving an at-large bid is a cornerstone moment.
Practically a coronation, in fact, exactly 15 years after being left for dead.
Look, 2012 was amazing. The Bonnies had been in the Atlantic 10 for 32 years and had never won a thing: no regular season titles (besides a share of a division in 1983), no tournaments, nothing. The Nicholson Gang ended that drought, allowed St. Bonaventure to carry the title of "champion," and there is status and cache and gravitas in that, and it was spectacular. But when you win it that way, the bid is an automatic one. The NCAA Tournament has to take you.
But an at-large berth?
It means they want to take you, even if assigning you to Dayton makes it seem like they're doing it with their eyes closed, pinching their noses. And for a team that plays outside of the Power 6 conferences, it is a rare thing: only three mid-majors received at-large bids this year – Bona, Rhode Island, Nevada. It is a number that shrinks every year, and that has become one of the infuriating trends of this tournament. Still: there are 351 schools that play Division I basketball. It is fair to say that more than two-thirds of them have zero chance to earn an at-large bid (including, for better or worse, the Bonnies' closest D-I neighbors Niagara, Canisius and UB). For years – for decades – there has always been a faction of fans that have wondered why Bona doesn't petition to join the MAAC, a cry that often gets louder during times when, say, Tom Chapman or Anthony Solomon is coaching the team (and quieter during times of, say, Jim Baron or Mark Schmidt).
Well, this is why.
Because in the Atlantic 10, for the time being anyway, they really do take a second look at you in a way they never do, and never will, in the MAAC or the MAC or most every other mid-major league, for better or worse.
"For a team on our level," Schmidt said Sunday. "Getting an at-large bid says everything about what we are as a program, and what we want to be."
It would've been nice taking that bid straight to Dallas.
But even if it means changing planes in Dayton?
In.
PART III: Karmic Payback
            One of the coolest things I've ever done in my professonal life was talk to John Wooden. I got 10 minutes on the phone with the Wizard of Westwood a few years before he died because I wanted to ask him about Giants coach Tom Coughlin, who'd never met Wooden but had based his entire professional life on Wooden and his Pyramid of Success. Wooden was everything you'd heard he was: graceful, kind, generous. And, it turns out, very patient.
            Because when I was done asking about Coughlin, I had one last thing I had to bring up.
            "Coach," I said, "I went to St. Bonaventure …"
            "Oh," he said, "I know where this is going …"
            Of course he did. It is the fundamental core of the lore of St. Bonaventure basketball: if Bob Lanier hadn't injured his knee against Villanova in the 1970 East Regional finals, it is taken as a universal truth the Bonnies would have dispatched Jacksonville in the Final Four four days later. And that would have set up a title shot against UCLA, which was between its Lew Alcindor and Bill Walton Eras, and had Steve Patterson playing center, a fine player who never once in his life made anyone forget Alcindor or Walton.
            "And let me tell you something," Lanier told me years later, as he was nearing 50. "I'll drop 45 points on Steve Patterson today. On one leg. Today!"
            So I had to know what Wooden thought of the question that has plagued fans of Bonnies basketball for decades.
            "Could the Bonnies have beaten you?"
            He thought about that for a second, perhaps pondered if he should tell his inquisitor what he wanted to hear, then went with his true feelings instead.
"If we played 10 times, maybe twice," Wooden said. "But in basketball, you never know when those two times will happen, do you?"
The truth is, we'll never know. The Bonnies actually have played UCLA twice before: once at Pauley Pavilion on Dec. 22, 1973, a 111-59 thrashing in Game 80 of UCLA's epic 88-game winning streak (and also Jim Satalin's first loss as Bonnies head coach after a 6-0 start), and then the following year at, ironically, Maryland's Cole Field House (where the '70 title game was played), a 78-62 Bruins win in the first round of a Christmas tournament.
Forty-eight years after the best Bonnies team of all never got a crack at the sixth of Wooden's 10 championship teams, the Bonnies will finally meet the Bruins in the NCAA Tournament.
(And let's be perfectly honest about something, OK? If St. Bonaventure and its seven NCAA bids feels a little slighted about being in Dayton Tuesday night, how do you supposed UCLA and its ELEVEN championships and FORTY-NINE NCAA appearances feels about that?)
It is interesting to note, of course, that the storyline that will dominate both this game and the thoughts of just about every Bonnies fan between now and tip-off will revolve around the status of Courtney Stockard and his hamstring. Stockard became easily the best narrative to emerge from this season. Adams was terrific, and he earned his share of the A-10 Player of the Year trophy. Matt Mobley was something to behold most nights, never more than the second half of the Richmond game Friday night which, we can now say with certainty, secured the NCAA Tournament bid. But it has been Stockard's story that's been most irresistible. At season's start, it was impossible to know what the Bonnies would get from him after he spent two years on the sidelines, battling a foot injury. Even when he emerged healthy after a last-ditch rehab protocol, it was hard to believe he would emerge as the Bonnies' third-best player – and, across the last half of the winning streak that turned the season upside-down, the team's most indispensible asset.
Maybe it's unfair to Davidson – which took its game to a higher plane rather than lick its wounds after that triple-OT loss at the RC two weeks ago – to say things in the semifinal Saturday would definitely have gone differently if Stockard were available, if he hadn't hurt the hamstring during the Richmond game Friday (when, no coincidence, the Bonnies saw a 17-point lead melt to two from the instant Stockard limped off the floor) but … oh, who are we kidding? Things would have definitely been different if he'd been available for that game.
So now the question is: will he be able to play against UCLA?
And even if he can play, will he resemble the force he's been?
And if there is one melancholy part of this extraordinary season, this good – this very good – journey we've all been on these past four months, it's this: you have to wonder who in the karmic universe St. Bonaventure – or St. Francis, or whichever Franciscan of choice might have done the deed – ticked off.
After all: in 1961, the Bonnies' first NCAA qualifier was a team that was ranked No. 2 in the nation all season, a team that lost by two points to Ohio State and seemed destined to get a rematch that March in the Final Four in Kansas City. But in February, the team started to look sluggish, especially its two stars – Tom Stith and Freddy Crawford. Niagara halted the Bonnies' 99-game Armory winning streak in February and a few weeks later Wake Forest eliminated the Bonnies in the Round of 16 – partly thanks to some interesting officiating (fans of that era still marvel at the fact that the refs allowed Wake coach Bones McKinney to inbound a ball to one of his players without a whistle being blown). But what was soon revealed was something much worse, and tragic: Crawford and Stith both had contracted tuberculosis. It cost Crawford the entire 1961-62 season but it affected Stith even worse: despite being his hometown Knicks' No. 1 draft choice in the '61 draft he only played 25 total games for them in an NBA career crushed by the TB.
Then, of course, nine years later, about 30 seconds before Larry Weise was about to empty his bench to play out the balance of that blowout Elite Eight game with Villanova, Lanier and his future teammate with the Pistons, Chris Ford, collided, Lanier's knee ligaments exploded … and, well, go to YouTube and watch "Unfinished Dreams" for the 76th time if you want to really torture yourself.
Now Stockard.
And look: nobody among us is crazy enough – even those of us who drive to Olean and back as a novel way of "killing time" – to think this team, for all the wonders it has provided across 32 unforgettable games, was going to need to book hotels in San Antonio in three weeks.
Still …
If they figure out a way to beat UCLA, does Florida in the next round really frighten you?
Does Texas Tech, who would likely be up after that, scare you?
Why care as much as you do, after all, if you aren't inclined to dream just a little? Isn't that part of the Good Journey?
Isn't that the best part?
---