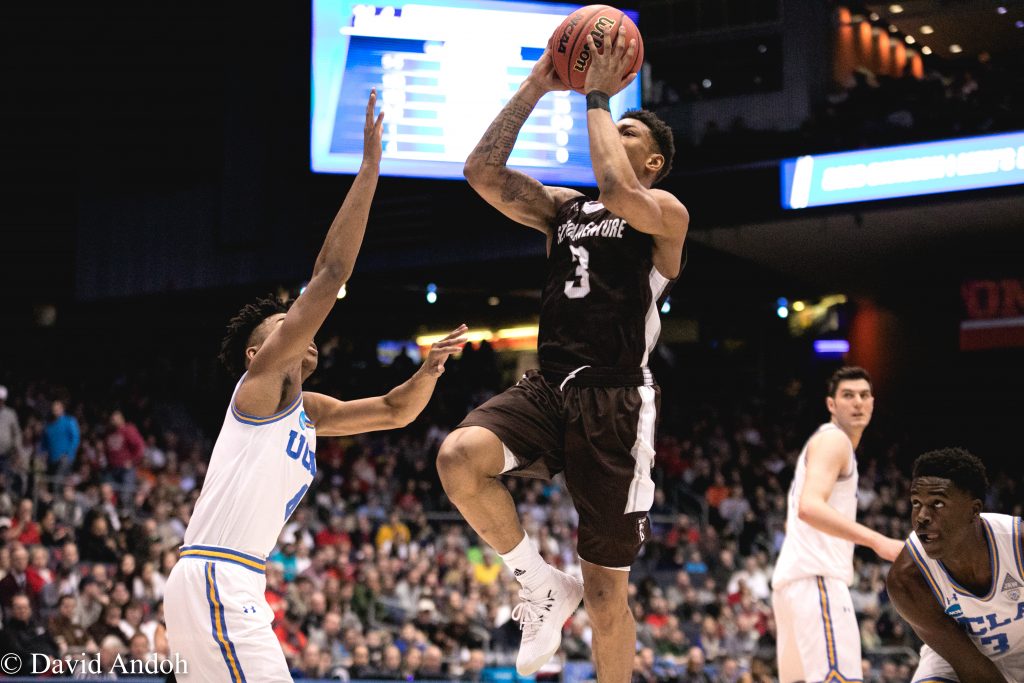 Bonnies down UCLA 65-58, Head to Dallas to Face Florida
In a match up of 11 seeds in Dayton, the St. Bonaventure Bonnies used terrific half court zone defense to stiffle UCLA on Tuesday on their way to a 65-58 win besting their program record 25 and winning number 26.
After the game Mark Schmidt essentially dedicated the win to the 1970 Bonaventure team that lost to Jacksonville in the Final Four and had National Title hopes before Bob Lanier went down in the National Semi Final game. That team never got the chance to play John Wooden and UCLA. 
You can read about that here or watch the post game presser video below in this article. Said Schmidt, "When I got the job here 11 years ago, we hear the stories about 1970 and how disappointing it was that Lanier got hurt and they didn't have a chance to have a full team going to play Jacksonville," Schmidt said. "And everybody talks about if Lanier was healthy, they would have taken on UCLA. This victory is for those guys. They didn't get an opportunity to show their talent."
"That was the greatest [St. Bonaventure] team that's ever played," Schmidt said. "I talked to the team about it. Because I think that's really important, legacies and tradition. For our guys to be able to go out and play a great UCLA team and beat them, to me, hopefully that helps the disappointment back in 1970."
"Coach told us before the game, 'It was Lanier in '70, and it's Adams, [Matt] Mobley and [Idris] Taqqee in 2018,'" Adams said. "I'm glad we could get this win over a powerhouse like UCLA. … I'm just so excited to be a part of this Bonaventure tradition.
"We're going down in history."
SBU was led all game by forward Courtney Stockard who was a game time decision with a hamstring injury suffered over the weekend during the team's game vs. Richmind on Friday night. Stockard scored early and often, was aggressive and went at the UCLA defense time and time again in carrying the Bonnies offensively. For the game he finished with 26 points, 4 rebounds and 4 steals. In truth, its really hard envisioning the Bonnies even being in this game at the end without the junior wing man.
Despite a poor shooting effort from both Jaylen Adams (2-16) and Matt Mobley (4-12), the Bonnies found a way to move on to Dallas to face Florida out of the SEC.
This was a signature win for the progam who earned their first NCAA Tournament victory in 48 years. It is truly amazing to think that when Mark Schmidt took over the program in 2007 the Bonnies had won a total of 24 games in the previous four season COMBINED. In 2005 the Bonnies went 2-26. The program was a complete disaster. FEMA should have been called before Mark Schmidt.
In Mark Schmidt's first season the program won eight games with holdovers Mike Lee, Tyler Relph, Zarryon Fereti, Tyler Benson and company. It seemed like Schmidt was half nuts for talking the SBU job as some called it "career sucide" (some being Albany coach Will Brown who apparently turned down the job). I remember sitting in Schmidt's welcoming press conference as a soon-to-be senior manager and thought to myself, "This guy has no f*cking idea what he's getting into." 
Maybe he didn't but it didn't matter. Schmidt was going to turn this program around come hell or high water.
He dug in, got to work, and started coaching…and winning…slowly but surely, the Bonnies went from laughingstock of the A10 to borderline conference power. He stopped accepting excusing, made the players tough as hell, made them play hard as hell and would not accept losing. Then the winning started.
Eight wins.
Then 15.
Then 15 again.
Then 16.
Then 20 and an A10 title and NCAA showing.
Then 14 (we'd have done unholy things for 14 wins in 2005).
Then 18 in back to back years.
Then 22, a share of the conference title and the biggest screw job in the history of the NCAA Tournament.
Then 20 more.
Then this year there's been 26 wins and the first NCAA win in nearly 50 damn years. 
Tonight's victory may be the culmination of that hard work in beating one of, if not THE most storied program in college basketball. That's not to see the Bonnies can win again Thursday, but this victory tonight was a historic and significant one for the University.
Below are the stats from tonight's huge win for the progam.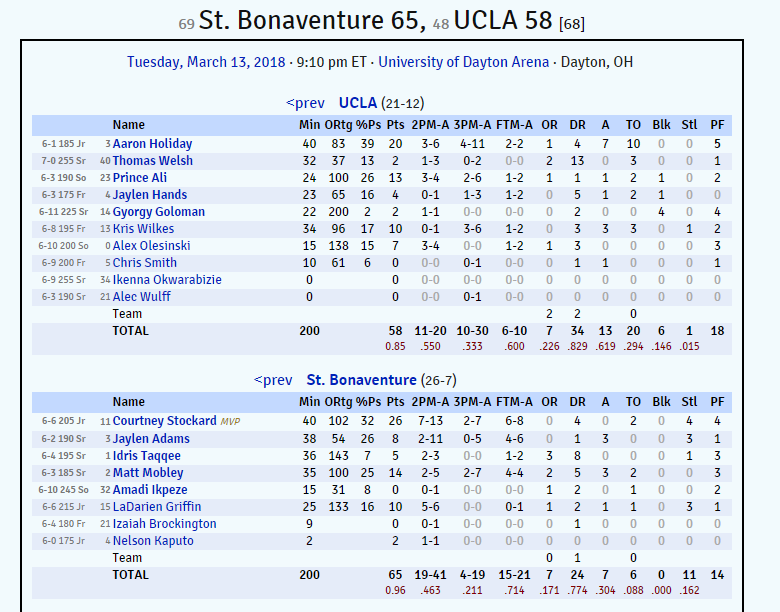 Here's some quick thoughts from tonight's win.
Stockard was a Man Amongst Boys- Courtney Stockard was a game time decision with that hamstring injury he suffered in the final minutes of the Ricmond game, but was without a doubt the MVP of tonight's contest. If he wasn't 100% he damn sure looked it tonight as he was the best player on the floor in a game loaded with talent. Stockard took the ball to UCLA in this one and scored in a variety of ways. In a game that lacked any real flow offensively, Stockard provided the scoring punch that was much needed given the absence of shooters around him. Stockard scored in transition, from the perimeter and inside against bigger defenders all night long. In a game where jump shots went to die, Stockard attacked the rim with a purpose and would not be denied. He has been the Bonnies' best player in the last month and proved that again tonight on the biggest stage. Tonight caps Stockard's long two year come back from foot injuries and it's fantastic to see him thrive in such a big moment on a national stage against a college hoops power after all his work to get back on the floor. His story this year has been terrific to follow and here's to hoping it's not finished yet. 

Bonnies 1-3-1 Zone Impresses- Other than Stockard, nothing was more impressive tonight than Mark Schmidt's 1-3-1, match-up type zone that he employed against the Bruins. As the broadcast stated, SBU played zone just 14% of the time this season on defense and so it's unlikely that UCLA coach Steve Alford prepared his team for such a look defensively. Generally a half court man to man team that plays a pack line defense, SBU threw a curveball at UCLA tonight and they swung and missed badly. Bonaventure drove the Bruins nuts with this scheme and forced one of the top 25 offenses in the country into just 42% shooting, 33% shooting from three and 20 turnovers. A team that averaged over 80 points a game failed to score 60 tonight. Despite being undersized in a major way, the Bonnies fought inside and more than held their own in terms of points in the paint finishing a terrific plus 10. They made 1st round draft pick Aaron Holliday work for his 20 points on 7-17 shooting, and limited hot shooting big man Thomas Welsh to 0-2 from three and five points overall. Further, SBU forced Holiday into 10, yes 10 turnovers alone….incredible. UCLA had ten fewer shots than the Bonnies and that was a huge key in the outcome. The defensive effort tonight was easily one of the best of the season for Bona (if not the single best) and along with Stockard's play was the single biggest reason they won the game. If Mark Schmidt is to consider leaving Bonas at seasons' end (not saying he will or is even considering it but…), this game will be his entire resume for a perspective school as he out coached Steve Alford for 40 minutes and beat a team of four and five star recruits. Bonas finished the game outscoring UCLA 30-3 in fast break points and Mark Schmidt called this the key to the victory. Mark Schmidt always talks about defense, rebounding and limiting turnovers as being the three constant things a team can do to win basketball games and tonight the defense was outstanding. 

Jay Adams and Matt Mobley Stuggle Shooting it: 

Heading into tonight's game I believed the key for the Bonnies would be shooting the basketball (simple, yet true enough). UCLA had a significant size advantage (5th tallest team in America facing SBU without 6-8 Josh Ayeni) and if SBU were to pull off a win it would likely mean that Adams and Mobley lit the Bruins up from the outside and forced the defense to extend, thus helping our big men a bit inside. Adams finished the game just 2-16 from the field and 0-5 from three and Mobley finished 4-12 and 4-7 from deep. Credit those two though as they still played sound defense in the half court and combined for just two turnovers. UCLA really did a great job in guarding them and Holiday in particular did a great job on Adams giving the point guard few good looks at all at the rim from deep. Still, when the game was hanging in the balance both players came up with critical buckets. Mobley nailed a huge three pointer with four minutes left to put SBU up sevent and Adams hit a long step back two pointer just inside of minute to give the Bonnies a two point lead. Then, both made free throws to seal the win. It wasn't pretty, and I'm not sure they can beat Florida if they get the same shooting numbers from Adams and Mobley, but tonight it was just enough to beat the Bruins. While their final numbers were not pretty, these two seniors made winning plays in the closing moments to finish the Bruins. 

Griffin Does It Again: Once again LaDarien Griffin was the spark off the bench the Bonnies needed in this one…and once again he lost his shoe on a play. Griffin finished with 10 points, three rebounds, three steals and made five of six field goals against bigger, stronger, interior defenders. Griffin has been a stand out for the Bonnies all year long and they would not have won this game without his efforts off the bench. His ability to score in Dion-Wright-type-ways inside is uncanny…it's not always pretty, but he seems to find a way to contort his body to get baskets in the biggest moments of the game. Griffin also took a huge charge with 22 seconds left as the Bonnies were leading by four points that iced the game. Finally, give credit to senior Idris Taqqee who played a flawless game tonight giving the Bonnies five points, eight rebounds and a steal on 2-3 shooting. Taqqee played sound defense all night and never seemed to make a mistake with the basketball on either end. He played his part to a tee tonight as a glue guy.

Dayton Crowd Does Its Part: We said heading into this game that the crowd at UD Arena would be 100% pro Bona and would likely rally around SBU. That was without a doubt the case tonight as the crowd helped will the Bonnies to the win in the closing minutes. When SBU went on that 9-0 run in the second half the crowd came to their feet and essentially forced UCLA head coach Steve Alford to call a timeout. They wanted their fellow A10 school to knock off the power out of the Pac 12 and had a huge hand in tonight's victory. I'm not saying to cheer for Dayton the next time they come to the RC, but you may want to buy one of the Flyer faithful a drink the next time you see one…they were a great 6th man tonight. I should note that I tweeted this earlier in the day while at the gym….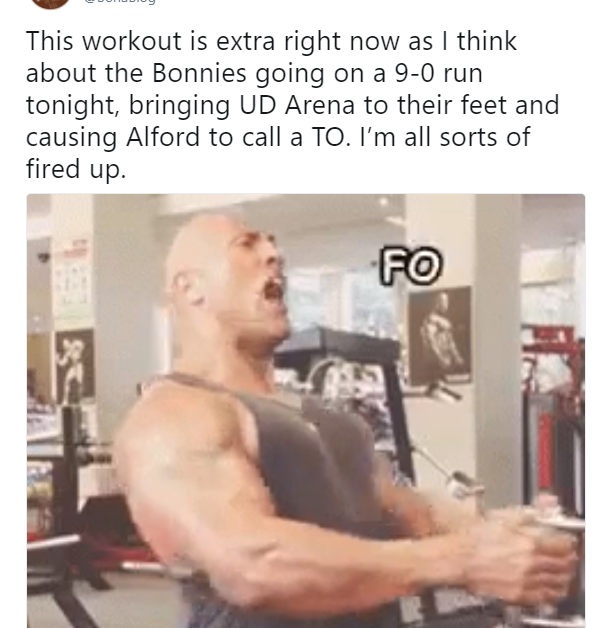 Next, the Bonnies travel to Dallas to face the Florida Gators on Thursday night. Tip is scheduled for just before 10 PM east coast time. We will have more on that match up soon. Florida is 20-12 out of the SEC and sports a top 40 offense and a top 30 defense. 
Below is the press conference footage from tonight's game.