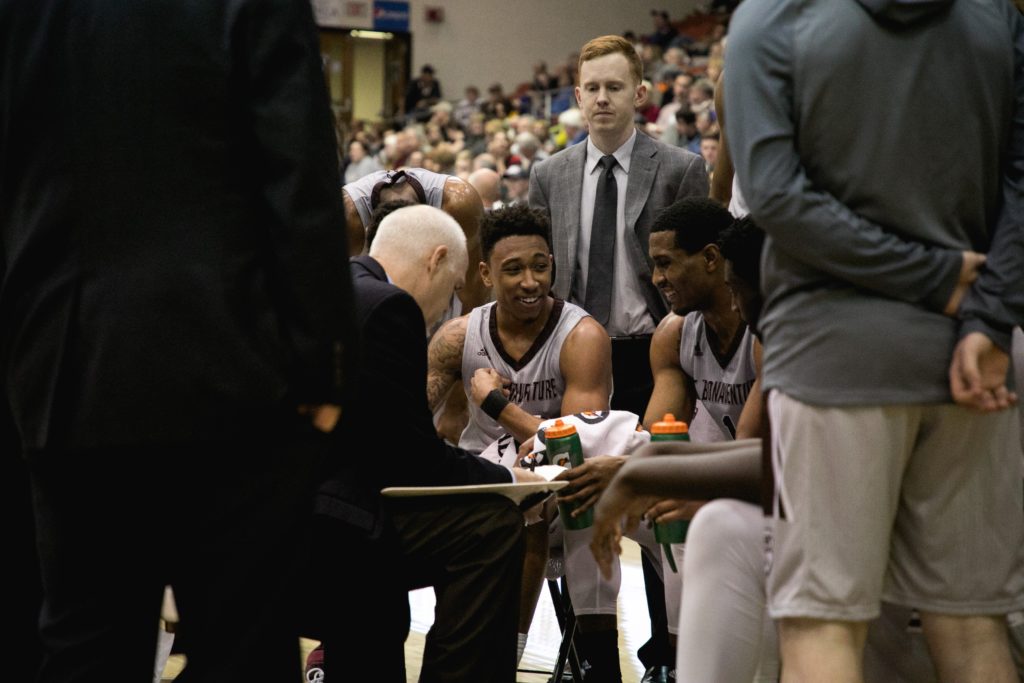 An Era Worthy of Being Called "Golden"
When I first typed the words "golden era" in reference to the present St. Bonaventure basketball program it was December 31. The Bonnies had closed their non-conference slate with a victory at hated Syracuse and had just finished trouncing UMass in their Atlantic 10 opener.
They were 11-2 and receiving seven votes in the Associated Press top 25 poll. I wrote that they were on pace again for 20 wins and a berth in the NCAA tournament.
The night my "golden era" piece was published on the Blog, SBU was clobbered at Dayton. The Bonnies then proceeded to lose at Saint Joseph's, Rhode Island, and Davidson – with only a home win over lowly Fordham in between.
The Bonnies were 12-6, 2-4 in the A-10. Their NCAA hopes were buried in the piles of snow that covered campus.
And, of course, I received all sorts of flack for ever typing the words "golden era."
By that point, even I – an eternal optimist – had lost faith in the Bonnies. I texted Ian, "best case for this team is the NIT."
Even so, that 1-4 stretch didn't change my opinion of the big picture of St. Bonaventure basketball. And it won't change if this season doesn't end in the NCAA tournament.
Through the losing, I stood by the "golden era" tag I attached to the Bonnies. Arguing that point at the time was pointless. No beleaguered SBU fan wanted to hear it.
Well, the last nine games – these last nine glorious games – have only bolstered the argument that we're witnessing a golden era of St. Bonaventure basketball.
First, let's be clear. I consider the "golden era" to be Andrew Nicholson's senior season (2011-12) to present day. Not these last three seasons.
In that time, the Bonnies have amassed a 142-82 record, 69-48 in Atlantic 10 games.
They won the Atlantic 10 tournament. They won a share of the conference regular season title.
They endured arguably the greatest snub in the NCAA tournament history in 2016. They really should be going for their third NCAA tournament appearance in seven seasons.
How many firsts in program history have been recorded since 2011? How many program records have been broken under Mark Schmidt's watch?
First A-10 regular season championship.
First A-10 tournament championship.
First winning streak of more than seven games in the A-10.
First time winning five consecutive games against nationally ranked opponents.
Tied for most regular seasons victories in a season with 22 in 2015-16.
First back-to-back-to-back 20-win seasons since 1957-61.
Schmidt has four 20-win seasons. To put that into perspective, SBU won 20 games or more twice in 28 years as a member of the A-10 before Schmidt.
If they keep winning, the Bonnies might be ranked in the AP top 25 for the first time since the 1970-71 season.
If the Bonnies make the NCAA tournament, Schmidt will join Larry Weise as the only Bona coaches to lead their teams to the tourney more than once.
Schmidt is 16 victories away from breaking Weise's program mark of 202 wins.
The program record of 25 wins in a season is well within reach.
The Bonnies are doing things this season that haven't been done since the Final Four year.
If this isn't a golden era of St. Bonaventure basketball, please tell me, what is?
What makes this run even more special is that the Bonnies aren't supposed to be doing what they're doing. They're not supposed to be able to compete with the heavy hitters of the Atlantic 10 and certainly not the big boys nationally.
Not with their budget and lack or resources.
SBU was an eastern power in the 1950s, 60s, and 70s when they were producing All-Americans, national rankings, and deep postseason runs. The program had the allure to attract some of the country's top recruits. They were supposed to be good.
But not now. Not here.
Argue all you want, but when you consider how much the landscape of college basketball has tilted against St. Bonaventure since the Big East was born in 1979, what the Bonnies are doing now is akin to golden eras of the Stiths, Lanier, Hollis, and Sanders.