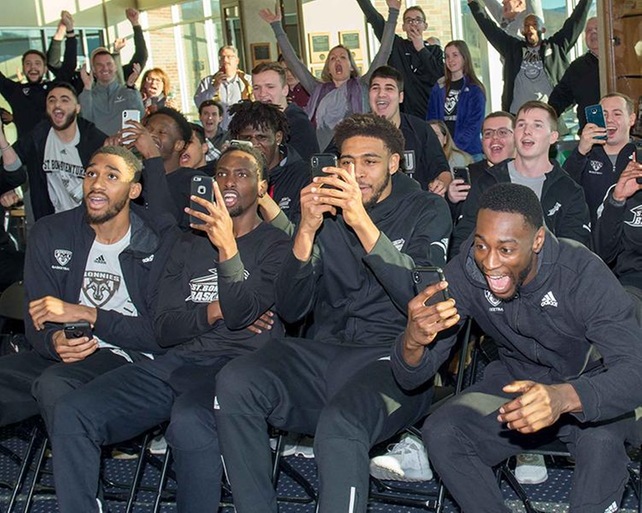 NCAA tourney selection altogether joyous and depressing
This is the hard knock life of a die-hard St. Bonaventure basketball fan.
Since February 16, when Rhode Island – nationally-ranked and riding a 16-game winning streak – entered the Reilly Center for a Friday night tip, we've literally lived and died with every last possession.
The Bonnies were winners of seven in a row heading into that URI game, yet still on the wrong side of the NCAA tournament bubble. A win – and only a win – would keep them in the hunt for an at-large bid.
With so much on the line, that back-and-forth game brought heavy bouts of sweaty palms, heartburn, chewed off finger nails, and nervous shaking. And, when Jared Terrell's desperation 3-pointer fell off the mark at the buzzer, finally a huge gasp of relief and a jolt of euphoria.
And, so it has been for the better part of the last month. Forty excruciating minutes after another. Fifty-five if you count the Davidson game.
Oh, the Davidson game. The one that went three overtimes and spanned two calendar days. Our hearts pounded furiously through our Bona brown sweaters with every shot, pass, and dribble. One bad bounce and it's likely the Bonnies aren't where they are tonight: in the NCAA tournament for the seventh time in program history.
The Bonnies made us perspire profusely again against Richmond in the Atlantic 10 tournament, nearly botching an insurmountable lead. One bad bounce away from being left out of the NCAA tournament, as they were two years ago in perhaps the greatest March snub of them all.
You remember 2016, when the Bonnies won a share of the Atlantic 10 regular season title and everybody and their brother whose an expert bracketologist had the them in the field of 68.
I remember wondering if Bonnies couldn't make it as at-large then, would they ever make it again. That's why these past few weeks have been so agonizing … and joyous.
From Jay Adams' game-winner at Duquesne, to LaDarien Griffin's heroics in the final minutes against URI, and Tshiefu Ngalakulondi and Iziah Brockington of all players coming on to save the day in the 3OT classic over Davidson, the Bonnies had won.
Thirten victories in a row, tying a program record.
Twenty-five wins total, also tying the all-time mark.
An RPI of 24.
14-4 in the Atlantic 10.
7-4 against the top 100.
3-2 against the top 50.
An average 10-seed according to an aggregation of all bracket projections collected by Bracket Matrix.
This was a once-a-generation season led by one of the program's all-time great guards.
And, still, the Bonnies made it only by the skin of a basketball. In the old 64-team format, they would have been left out.
(By the way, does Jim Boeheim have photos of the selection committee members in unsavory positions with farm animals?)
Don't get me wrong, I'm glad the Bonnies are in. I'm just more depressed with how the deck is so stacked against St. Bonaventure and similar programs.
This team? This season?
And a first-four play-in game is the result?
The Bonnies were slighted in 2016. This is just as bad.
An old Bonaventure friend texted the word "bittersweet" to me after SBU's position in the first four was unveiled. My response was "tough to swallow"
Think about it. 25-7 with 13 wins in a row, a host of quality victories … and they barely made the field.
I suspect Schmidt, Adams, Mobley and the boys feel disrespected. Hopefully they take it out on UCLA Tuesday night and Florida Thursday.
The Bonnies have been here before. After the Niagara loss on opening night. Following a 2-4 start to A-10 play.
Doubted. Buried. Postseason hopes allegedly kaput.
And here they have their greatest opportunity of all. To prove the selection committee woefully wrong, and to author a glorious finish to one of the most distressing yet exultant seasons in St. Bonaventure history.